The Gigi Hadid Runway Workout!
Hint: it involves a treadmill and an Alexander McQueen gown.
---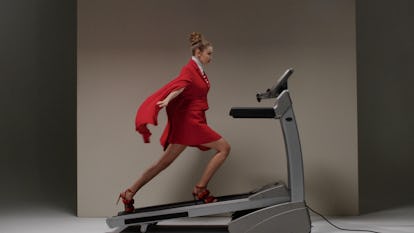 In a new video short, W's September issue cover star Gigi Hadid talks about her strenuous pre-runway workout routine. Not. (You think she runs on a treadmill in Alexander McQueen finery? Think again.) "I think it's very rare that we can connect comedy with fashion," Hadid says, following the shoot. "I think everyone in fashion is really going to like this video."
All kidding aside, the joke speaks to the bombshell's major success in ad campaigns, editorials, and Instagram posts—but minimal presence on the runway. She laughs: "When I came in today, I was told that I was doing a runway tutorial—which I was like, 'OK, I am literally the last person in the world who should be giving a runway tutorial.' When I heard that it was going to be funny, that's what made me so excited. If I'm in a show it's usually like because they need to fill out the clothes, or because I fit the theme of the show."
Here, Hadid dishes on her off-the-runway ambitions (could we have another Cara Delevingne cross-over on our hands?), her sense of humor and more:
Watch Hadid's workout parody here:
Gigi Hadid made her runway debut at the Desigual fashion show during Mercedes-Benz Fashion Week Fall 2014.
Photo by Getty Images.
By the following season she was walking the runway for Marc Jacobs, although she was almost unrecognizable in a black wig with short bangs.
Photo by Getty Images.
For the Jean Paul Gaultier Spring 2015 show during Paris Fashion Week, Gigi's blonde hair was given a very big blowout.
Photo by Getty Images.
That same season, Gigi also made her debut on the Chanel runway wearing shiny gold tights and shoes.
Photo by Getty Images.
For Fall 2015, it was back to (very unusual) black wigs for Jeremy Scott's New York show.
At Milan Fashion Week Fall 2015, Gigi stole the show in a Max Mara camel coat and nothing else.
Gigi was on a roll in Milan, closing the Moschino show in a ball gown covered in graffiti.
Photo by Getty Images.
She also showed off her more seductive side in a tight Emilio Pucci leopard dress and black choker.
Photo by Getty Images.
And finally joined the flock of supermodels at Dolce & Gabbana.
Photo by Getty Images.
In Paris, she walked for Balmain, solidifying her serious runway presence.
Photo by Getty Images.