Gigi Hadid Takes Toronto in Mugler
The model wins the red carpet at the latest iHeartRadio awards in a fiery Mugler ensemble.
---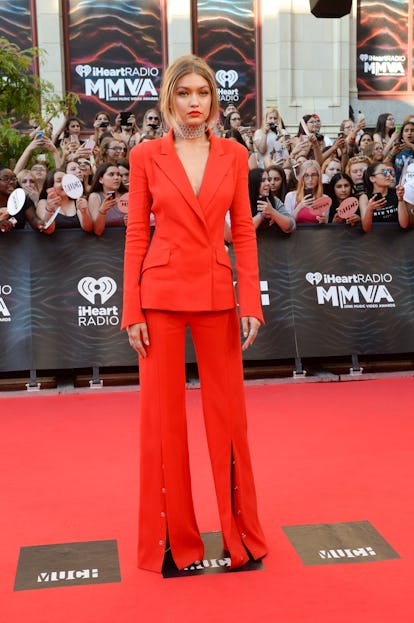 Photo by Sonia Recchia/Getty Images.
Who: Gigi Hadid.
When: Sunday, June 19.
Where: The iHeartRadio MuchMusic Video Awards in Toronto, Canada.
What: A red Mugler Resort 2017 suit.
Why: A red power suit can do no wrong. It caught our eye when Emilia Clarke wore a scarlet Stella McCartney ensemble to CinemaCon, and it works in this slightly edgier iteration on Gigi Hadid. The double-breasted jacket, with its angled pockets, accentuate her silhouette, and the snaps on the front of the wide-leg pants are weird enough to add a little bit of intrigue to a well-worn look. Topped off with a statement choker and a matte lip, and the whole thing is red carpet-ready.
Gigi Hadid reveals the secret to her signature runway walk, here:
[#cnevideo: /cnevideos/577e6beb22bb8b091a368055]||||||