Gigi Hadid and Kendall Jenner Speak Out Against Donald Trump's Immigration Policy
"How can you be so cold-hearted?"
---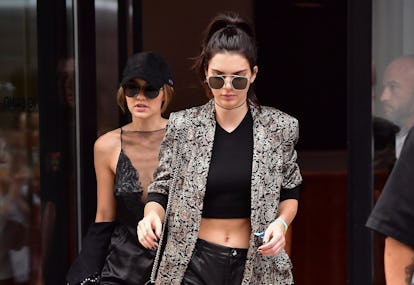 James Devaney/GC Images
As the daughter of an immigrant, Gigi Hadid, whose father is Palestinian-born Mohamed Hadid, has made her stance on immigration officially known. Back in January of last year she protested Donald Trump's travel ban while holding a sign with her sister Bella Hadid that read: "We are all Hindus, Buddhists, Muslims, Atheists, Christians, Jews." Now, in the wake of the government's policy of separating children from their parents when they illegally cross at the border, Hadid is speaking out once again.
After posting a picture on Instagram that detailed how many children have been separated from their families by Homeland Security at the United States and Mexico border, Hadid clapped back at a critic. When one user commented, "If you don't want to lose your kid, don't cross into the US illegally. Pretty Simple," Hadid responded by challenging her.
"There are numerous amounts of children [whose] parents LEGALLY work in the US," she wrote. "There are some stories where the children are being taken to the States because being in Mexico is extremely UNSAFE and they DO NOT HAVE THE RESOURCES for affordable day-care. How can you be so cold-hearted? You don't know the individual stories and tragic experiences these people have been through. They wouldn't need to come to the neighboring country if they had better rights and help in their own… so why don't you start to think about how we could help improve the lives of people in the communities on the other side of the border so that they don't have to risk their lives daily for their families… makes a lot more sense to me than treating CHILDREN (LITTLE KIDS WHO DID NOT CHOOSE TO BE BORN INTO THESE CONDITIONS, and parents who are only working to better the lives of their children) like animals."
Meanwhile, Kendall Jenner also commented on the government's current policy of separating families at the border. She shared a screenshot of a tweet from Connecticut senator Chris Murphy that said, "The President of the United States has stolen 2,000 little children from their parents and locked them in cages, to be released only if Congress gives him money to build a wall with Mexico. I'm pretty sure I have that right." Jenner added three exclamation marks and a link to a petition by the ACLU which is being set in motion in hopes of preventing U.S. Customs and Border Protection from abusing immigrant children, which you can sign here.