Gigi Hadid Photographed Zayn Malik for Versus Versace's Spring 2017 Ad Campaign
Gigi Hadid on her first ad campaign as a photographer: "My man by me!"
---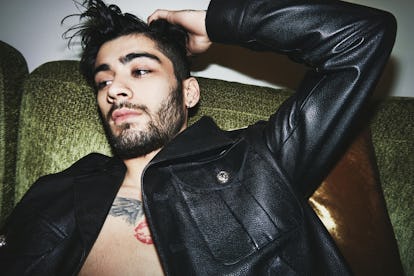 Courtesy of Versus Versace
Gigi Hadid recently took part in a sexy photo shoot at the Chateau Marmont, which is not unusual for the international model. But this time, the 21-year-old model and It Girl was behind the lens instead of in front of it. Her subjects: fellow model Adwoa Aboah and Hadid's musician boyfriend, Zayn Malik. The shots, which were taken for Versus Versace's spring 2017 ad campaign, feature Aboah and Malik sprawled out and ambling around the hotel suite wearing Versus signature black leather jackets, ripped jeans, body-conscious knits, and, well, not a whole lot else. Hadid took the photos using digital cameras and various iPhones, for an intimate, social-media-friendly feel.
"The Versus campaign captures everything that is special about Zayn, Gigi, and Adwoa," Donatella Versace said in a statement released by the brand today. "They are young people who define the mood of their generation with their honesty, energy, and their love."
Versus first teased the campaign on Instagram last week, using a blurry behind-the-scenes video from the shoot, dated December 16, 2016. In the clip, Hadid is playing the part of photographer with confidence: videotaping Aboah and Malik on an iPhone while nonchalantly holding a digital camera in the other hand.
This won't be Hadid's last photography gig either. Earlier this week it was announced that the model will be shooting for V magazine's summer 2017 issue. Malik, for his part, will be designing a capsule collection for Versus Versace, which will be revealed in June and immediately available for purchase. And Aboah, well, she's killing it with her nonprofit Gurls Talk, which provides young women with a platform to tell intimate stories about their experiences. Multi-hyphenates, these three sure are.
Related: Supermodel Gigi Hadid Still Gets Insecure on the Runway