Gigi Hadid Fires Back at People Who Say She Looked "Too Skinny" at NYFW
"You never really know the whole story."
---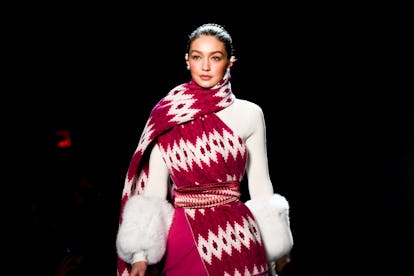 Presley Ann/Patrick McMullan/Getty Images
In the five years since she made her official debut into the fashion industry, [Gigi Hadid](https://www.wmagazine.com/topic/gigi-hadid has been repeatedly body-shamed and criticized for being both "too muscular" and "too skinny" to be a model. Usually, she doesn't respond to the haters; frankly her success means she has no need to. But over the weekend, after walking in the Jeremy Scott, Bottega Veneta, and Prabal Gurung shows at New York Fashion Week, the 22-year-old decided to clap back at her body shamers once and for all via a series of tweets she posted Sunday night.
"For those of you so determined to come up w why my body has changed over the years, you may not know that when I started @ 17 I was not yet diagnosed w/Hashimoto's disease; those of u who called me 'too big for the industry' were seeing inflammation & water retention due to that," she started, referencing the condition that she's spoken openly about since 2016. According to the Mayo Clinic, Hashimoto's disease causes your immune system to attack your thyroid, causing symptoms like unexplained weight gain, muscle aches, and joint pain; Zoe Saldana, Gina Rodriguez, and Leona Lewis have also experienced the disorder. "Over the last few years I've been properly medicated to help symptoms including those, as well as extreme fatigue, metabolism issues, body's ability to retain heat, etc… I was also part of a holistic medical trial that helped my thyroid levels balance out," she continued.
Hadid went on to explain that she's still trying to understand how this condition affects her body, and that, while she may not be at her own ideal weight, the important thing is that she's staying healthy. "Although stress & excessive travel can also affect the body, I have always eaten the same, my body just handles it differently now that my health is better. I may be 'too skinny' for u, honestly this skinny isn't what I want to be, but I feel healthier internally and am still learning and growing with my body everyday, as everyone is," she wrote, then shut down further rumors that her weight loss was caused by drug use. "I will not further explain the way my body looks, just as anyone, with a body type that doesnt suit ur 'beauty' expectation, shouldnt have to. Not to judge others, but drugs are not my thing, stop putting me in that box just because u dont understand the way my body has matured."
The supermodel ended on an inspiring call for people on social media and beyond to show more compassion for each other. "Please, as social media users & human beings in general, learn to have more empathy for others and know that you never really know the whole story. Use your energy to lift those that you admire rather than be cruel to those u don't," she wrote.
Several of Hadid's famous friends showed their support in tweets of their own. "Alternate tweet: 'f*ck off' ❤️" Chrissy Teigen replied to Hadid's initial tweet. Ruby Rose also responded to that tweet, writing, "Sorry you too have to explain something so ridiculous to people. Love to you. Love to the people who try to tear down others also because they are just people who haven't had the spiritual growth that needs to occur to love and accept one another."