Gigi Hadid Wears Long White Pants While Walking Around New York in the Snow
Magically, she didn't get any mud on her pants.
---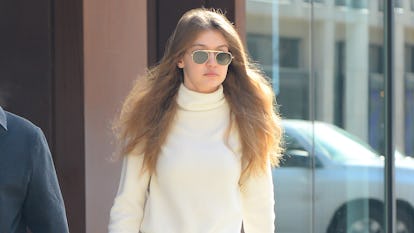 Raymond Hall/GC Images/Getty Images
New Yorkers have the reputation for wearing all black. All year round. But this is not a dress code that applies to Los Angeles-born, former New York resident Gigi Hadid. On Thursday, the supermodel was spotted walking down the street in SoHo rocking a pair of high-waisted, flowing white pants that feature thigh-high splits up the sides that were dangerously close to coming in contact with the slush on the sidewalk. She paired the chic trousers with an off-white sweater, a small M2malletier backpack, sunglasses, and knee-high snakeskin boots.
It's worth noting that the temperatures in New York City this week are in the 20s and 30s—in other words, below freezing. Hadid understandably looks sort of uncomfortable in a few of the photos, considering the freezing winds were hitting her (yet making her hair look flowing and fabulous). Imaginably, running through her head were visions of the dozens of fashionable and warm coats she saw at New York Fashion Week, Milan Fashion Week, and Paris Fashion Week, where the model walked on a slew of runways, including Jeremy Scott, Versace, Fendi, MaxMara, and Balmain. In fact, her risky white outfit is reminiscent of one she wore on Jeremy Scott's New York Fashion Week runway, which featured white, flowing bell bottoms and a matching jacket, both bedazzled with multicolor rhinestones.
Check out a few photos of Gigi's look below.
Gigi Hadid Has Perfected Her Model Off-Duty Style
Like most teens in 2012, Gigi Hadid had a love of cool printed pants. Worn with her natural wavy hair and tan accessories, the young model showed an early sense of style.

GETTY
Less than two years later, Hadid had blossomed from traditional teen to mega model off-duty—and she had the leather jacket, black skinnies, and leopard print boots to prove it.

GETTY
The model was all smiles at the 2014 Kids' Choice Awards with a fun blue and white look befitting of the occasion…

GETTY
And again showed off her stellar off-duty style in a striped shirtdress and Chanel boots in New York.

GETTY
The model is known for her versatility. Here, she wears a minimalist Calvin Klein Collection number at the brand's 2014 Reveal fragrance launch party.

GETTY
And really showed her star power at the 2015 Vanity Fair Oscar Party with a slinky Versace dress.

GETTY
The shimmering Atelier Swrovski and Michael Kors jumpsuit she wore to the CFDA Awards…

GETTY
And, most recently, the branded Mikhael Kale jacket and Christian Louboutin booties she sported at the MuchMusic Awards. #Hadid for the win.

GETTY
Out on a date with then-boyfriend Joe Jonas at L'Avenue, Hadid opted for a sporty Versace dress in Paris, France, September 2015.

GETTY
Hadid and Kendall Jenner wore straight-off-the-runway Balmain looks (and swapped hair colors while they were at it) during Olivier Rousteing's Fall 2017 Balmain after party in Paris, France, March 2016.

GETTY
A longtime fan and model for Rousteing, Hadid wore another one of his designs for Balmain attending a dinner he hosted during the Spring 2016 collections in Paris, France, September 2015.

GETTY
Hadid wore a daring sheer Yanina Couture dress with a La Perla bodysuit to the Daily Front Row "Fashion Los Angeles" awards, where she observed little sister Bella Hadid nab the Model of the Year award, in West Hollywood, California, March 2016.

GETTY
Hadid made headlines with her new (later revealed to be faux) bangs, but her Versace suit was no less attention-getting. Here, she walks the red carpet at the MTV Movie Awards in Burbank, California, April 2016.

GETTY
Hadid was in the midst of promoting her first collection with Tommy Hilfiger when the designer was honored at the Daily Front Row's Fashion Media Awards — so, appropriately enough, she wore a daring iridescent gown by Hilfiger to support the designer, in New York, New York, September 2016.

GETTY
Hadid proves there's Tommy for all occasions, here under the brutal New York City heat dome, July 2016.

GETTY
Hadid, in Atelier Versace chain mail, joined sister Bella (who walked her first-ever Victoria's Secret show last year) on the pink carpet at the lingerie brand's afterparty in Paris, France, November 2016.

GETTY
Hadid put the rest of New Yorkers to shame in the chic-est possible look during the polar vortex: a Victoria Beckham coat, Mansur Gavriel bag, Karen Walker sunglasses, and Freda Salvador boots, in New York, New York, December 2016.

GETTY
Ever the early adopter of a street style trend, Hadid works a pair of plaid Miaou jeans, looking every inch the British punk goddess in Paris, France, March 2017.

GETTY
Hadid broke the cardinal rule of New Yorkers everywhere, wearing a slouchy all-white ensemble after a bout of fresh snow and before Memorial Day with an M2Malletier bag. You can take the girl out of Calabasas, but you can't take Calabasas out of the girl.

GETTY
Gigi Hadid's enviable crop top selection showcases her enviable abs. Here, she wears an embellished Sally LaPoint sweatsuit in New York, New York, April 2017.

GETTY
Gigi Hadid seen on the streets of Manhattan on September 08, 2018 in New York, NY. Photo courtesy of Getty Images.

GETTY
Gigi Hadid looks crisp in an all white suit on October 23, 2018 in New York City. Photo courtesy of Getty Images.

GETTY
Denim-on-denim for a Rangers game as Gigi Hadid is seen arriving at MSG on 34th street on March 12, 2018 in New York City. Photo courtesy of Getty Images.

GETTY
Gigi Hadid seen on the streets of Manhattan on October 09, 2018 in New York, NY. Photo courtesy of Getty Images.

GETTY
Gigi Hadid seen on the streets of Manhattan on December 11, 2018 in New York City. Photo courtesy of Getty Images.

GETTY
Model Gigi Hadid is seen on February 26, 2019 in Paris, France. Photo courtesy of Getty Images.

GETTY
Model Gigi Hadid is seen on February 28, 2019 in Paris, France. Photo courtesy of Getty Images.

GETTY
Model Gigi Hadid attends the "Americans In Paris" Cocktail Party Outside Arrivals as part of the Paris Fashion Week Womenswear Fall/Winter 2019/2020 on March 03, 2019 in Paris, France. Photo courtesy of Getty Images.

GETTY
Gigi Hadid is seen at Cipriani 42nd Street for the Variety's Power of Women on April 5, 2019 in New York City. Photo courtesy of Getty Images.

GETTY
Gigi Hadid arrives at Marc Jacobs and Char DeFrancesco wedding reception at the Pool on April 6, 2019 in New York City. Photo courtesy of Getty Images.

GETTY
Gigi Hadid Loves Fashion Week: