Gina Rodriguez, "Jane the Virgin," Makes the Leap to Movie Stardom with "Deepwater Horizon"
The 32-year-old TV star takes on a new role as the only woman on the doomed oil rig at the heart of Peter Berg's latest action nail-biter.
---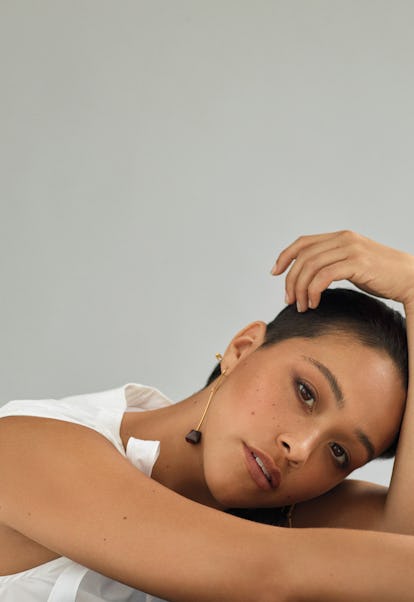 Photograph by Sean and Seng, Styled by Emma Wyman; Hair by Paul Norton for Joico; Makeup by Gemma Smith-Edhouse for Lancome; photography assistants: Stefan Ebelewicz, Michel Bewley; Fashion assistant: Ioana Ivan
Gina Rodriguez, the 32-year-old star of the satirical rom-com series Jane the Virgin, grew up in a working-class Puerto Rican family in Chicago with two older sisters—one is now a doctor, the other has a career in finance.
"I was raised by my parents to go after what I wanted," Rodriguez says. "Did they want me to be an actor? No. But they had already created a monster."
At age 7, Rodriguez joined a professional salsa dance company; at 16, she enrolled in an elite theater program for teens at Columbia University; and last December—on the very same day that she received her second Golden Globe nomination, having won the award for best actress in a comedy series the year before—she finally paid off her New York University student loans. It would've taken her even longer without partial support from the Hispanic Scholarship Fund, where Rodriguez now sits on the board of directors.
This month, she makes her blockbuster debut, in Deepwater Horizon—a nail-biter from director Peter Berg based on the 2010 Gulf of Mexico oil spill—in which she plays the sole woman working on the doomed oil rig on the day of the tragic explosion.
"They wanted a big movie star, so I said, 'Make me one,' " Rodriguez recalls. "Peter told me, 'I didn't think you could be not Jane.' And I was like, 'I'm not Jane at all! I'm so far from Jane. Period.' "
Watch all the episodes of "The Myth of Orpheus and Eurydice," a four-part film series by Gia Coppola, here. Produced for Gucci by W magazine.