Gina Rodriguez Goes Full Action Star in Miss Bala Trailer and It's About Time
The trailer for her upcoming film Miss Bala is a real ride.
---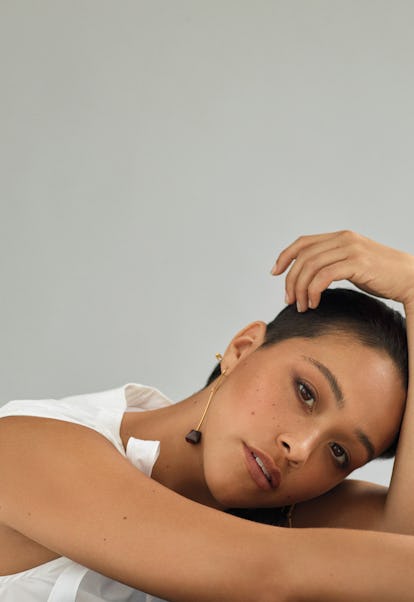 Photograph by Sean and Seng, Styled by Emma Wyman; Hair by Paul Norton for Joico; Makeup by Gemma Smith-Edhouse for Lancome; photography assistants: Stefan Ebelewicz, Michel Bewley; Fashion assistant: Ioana Ivan
Gina Rodriguez is officially an action star. After a scene-stealing role in Natalie Portman's Annihilation, The Jane The Virgin star is taking the lead. Her upcoming film Miss Bala looks like one wild ride. Today brings the first look at the action-packed trailer and, in it, Rodriguez makes you wonder why it took this long for her to front an action film.
The movie is centered around a trip to Tijuana that goes wrong. After Rodriguez reunites with her best friend there, the pair get caught in the crossfire of a drug cartel at a club. Her friend goes missing and Rodriguez is left to pick up the pieces, while being taken as a hostage by the cartel. As if that isn't complicated enough, the cartel forces her into a web of crime and the only exit is for Rodriguez to become an informant for the DEA. All the while she ends up forming a relationship of sorts with one of the cartel members. The film is directed by Catherine Hardwicke of Thirteen and Twilight fame, and the cast is rounded out by Ismael Cruz Córdova, Matt Lauria, Ricardo Abarca, and Anthony Mackie.
Rodriguez has been working towards this moment throughout her career, as she recently revealed. "I had been dying to do action for so long, and it's very difficult because people of color don't have as many opportunities," she told Entertainment Weekly. "And that's not even like a 'Woe is me.' That's just a reality, and that's okay. That has been a reality of mine for many, many, many years. [With 'Miss Bala'], Sony made a big-budget action film with a 95 percent Latinx cast and 95 percent Latinx production crew. It's revolutionary. It's just really great to live in these spaces that for so long I didn't have the opportunity to."
She was also excited about getting to make the film with a mostly Latinx cast and crew — something that should be far more common yet Latina actresses account for just just 2.8 of roles across cable, broadcast, and streaming network programming according to a recent study by San Diego State's Center for the Study of Women in Television and Film. "The opportunity to make this with my fellow Latinos and Latinas was next-level," she said. "I'm like, 'They're going to let us do this?! They're going to let us be in front of and behind the camera and they're going to give us money to make this?!' This is inclusivity. This is what I'm talking about."