The Invisible Agnelli
Although increasingly active in film and art, Ginevra Elkann remains a quiet member of her controversial clan.
---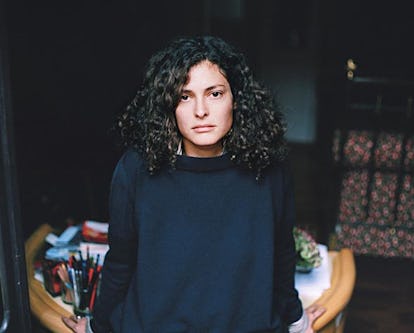 Zooming over the cobbled streets of Turin, Italy, with the family's driver at the wheel, Ginevra Elkann is ready to let loose a family secret: The eldest granddaughter of Gianni Agnelli—the man synonymous with Fiat and fast cars—doesn't have a driver's license. In fact, she never even took the test. And, much as she loved her nonno, who died in 2003, she's not interested in working for the family firm, unlike her brothers John and Lapo. "Never!" says the thoughtful, dark-eyed beauty from the backseat of the black four-door Fiat. Instead, Elkann, 29, shows her loyalty to the clan in ways that don't involve engines or gearshifts.
It is an overcast autumn afternoon, and Elkann is headed back to her apartment in the center of the city, with its narrow streets and coffee bars. She's running late for the opening of an exhibition at the Pinacoteca Giovanni e Marella Agnelli, the family art space where she serves as vice president. "It's been a crazy day, and I have to wash my hair," she says, referring to the mass of chocolate-colored corkscrew curls that graze her shoulders.
Ginevra Elkann and her brother Lapo.
Later that evening Elkann, decked in Christian Louboutins and Lanvin, greets guests including her two brothers; Lapo's girlfriend, Bianca Brandolini d'Adda; Franca Sozzani; and Serge de Yugoslavia at the Pinacoteca, a light-box-like structure designed by Renzo Piano on the roof of a former Fiat factory. Although Elkann clearly possesses the knack for style that tends to run in her family—her Agnelli grandparents and Lapo have been fixtures on best-dressed lists—she insists that, for her, clothes are mostly camouflage. "I don't have a supermodel body," she says matter-of-factly. "I'm always trying to hide something."
The youngest child of Margherita Agnelli and her first husband, the Franco-Italian journalist and author Alain Elkann, Ginevra is the most low-key member of her immediate family—and probably the most sardonic and self-deprecating. "My grandmother has a great aesthetic sense," she says, referring to Marella Agnelli, famous for her long neck and impeccable elegance. "Unfortunately I didn't inherit it." She doesn't reserve all the put-downs for herself, however. "[Ginevra] can exert the influence of a grande dame when necessary," says her friend Farhad Farman-Farmaian, a London entrepreneur. "Once, when she did not care for a ubiquitous character, she decided to refer to [the hanger-on] as 'Elle me fatigue' ('She tires me') rather than [by] her name," he says. Even so, Elkann's offbeat choice of holiday home is testament to her unassuming ways. She is building a house in an unglamorous part of Portugal, south of Lisbon. "There are 80 miles of beach without anyone on it," says Elkann, who has a master's degree in directing from the London Film School and who juggles art and film projects when she's not whipping up spinach soup for friends in her kitchen in London's Notting Hill. Life under the radar clearly suits her. Besides, isn't there enough family drama already?
Elkann's mother is currently locked in battle with her family (and their advisers) to uncover the extent of Gianni's foreign assets and full net worth. Lapo's near-fatal overdose in 2005, and his subsequent battle to overcome drug addiction, made headlines worldwide. Elkann's eldest brother, John, 32, has taken over the Fiat fiefdom: an $11 billion holding company that owns the automotive group and the Turin soccer club Juventus. Being an Agnelli, Elkann insists, has been "an adventure—and a privilege," and adds that she refuses to pay attention to negative press about her family. "She is totally committed to the family and to its traditions," says her cousin Marella Caracciolo Chia. Indeed, Elkann declines to comment on her relationship with her mother, which is reported to be under serious strain since Margherita filed suit in May 2007 against Gianni's three long-standing advisers. Having sparked a very ugly—and public—family feud, Margherita, the Agnellis' only surviving child, is now a pariah within the usually discreet clan.
Elkann is equally tight-lipped about her personal life, although she can't deny that there will be some momentous changes this year. She plans to marry Giovanni Gaetani in April, and the couple are expecting their first child in July. Gaetani, whom Elkann started dating last year, is based in both Rome and Tuscany, where he manages his family's agricultural estate.
While Elkann still lives most of the year in London, Turin holds a particular place in her heart. Three of her grandparents lived there, and she has especially fond memories of her paternal grandmother, an Italian Jew. "You can't do more mama than Italian Jewish mama," says Elkann with a smile, recalling her grandmother's vegetable garden and their trips together to the local market. The town also reminds her of hanging out with Gianni, watching and discussing films. "He loved movies—especially ones with Rita Hayworth," she says wryly, referring to one of her grandfather's former girlfriends.
The Pinacoteca's next show is "State of Mind," which features contemporary art on loan from Ebrahim Melamed, a Tehran-based private collector with a special interest in young Iranian artists. Previously Elkann organized "Prehistory to the Future: Highlights From the Bischofberger Collection." Those works were drawn from the trove of the Swiss art collector—and pal of Andy Warhol and Jean-Michel Basquiat—Bruno Bischofberger, a longtime family friend and a neighbor of Gianni and Marella's in Saint Mortiz. Elkann has childhood memories of watching Julian Schnabel and George Condo painting chez Bischofberger while she played hide-and-seek with the collector's children.
Since she joined the gallery in March 2006, Elkann has developed its vision as a showcase for private collections from around the world. "We were born from a private collection," she says, referring to her grandparents' paintings from the 18th to the 20th centuries, which are on permanent display. "I think it's a very subjective, very personal way of seeing art." (Elkann has her own stash of drawings by such artists as Francis Alÿs, Mamma Andersson and Pietro Ruffo.) She is considering shows on Islamic, Coptic and Greek works, and believes that collections of everything from jewelry to skateboards are fair game for the Pinacoteca. "It's nice having that freedom, but in the end these shows need to be good enough to take to New York," says Elkann, who sees her work at the gallery as a tribute to Gianni. "He gave me a sense of discipline and of duty. Not for Fiat necessarily, but for the Pinacoteca."
The gallery represents just one slice of Elkann's life: Later this year she'll make her feature-film producing debut with a movie directed by BAFTA-nominated Babak Jalali, whom she met at film school. The project weaves together four stories of everyday life in northern Iran. Elkann coproduced the as-yet-untitled movie with London banker Saadi Soudavar, who helped her seek financing from Iranians abroad. At press time the partners were hoping to submit it to this year's Cannes film festival. "Ginevra has a sense of adventure, with a classic Italian ease," says Soudavar. "She travels to places like Iran as if she were traveling in Europe."
Elkann's next few projects, it seems, will keep her closer to home. One is a new drug rehab center in Italy. "I'd like to do it on the American model, where you can spend months recovering—not years," she says. (She acknowledges that Lapo's stint at an Arizona clinic contributed to her idea but adds, "Addiction is around us in general.") Meanwhile Elkann is finally ready to pay what may be the ultimate tribute to her grandfather: She's going to learn how to drive. "It's going to be a big year for me," she says with a smile. "I'm tired of relying on someone to drive me around. I just want my freedom."