Meet the Two Milanese Street-Style Stars Dressing Up the Pajama Trend
It's all about the perfect robe, say Giorgia Tordini and Gilda Ambrosio, who've perfected the just-rolled-out-of-bed look with their new label Attico.
---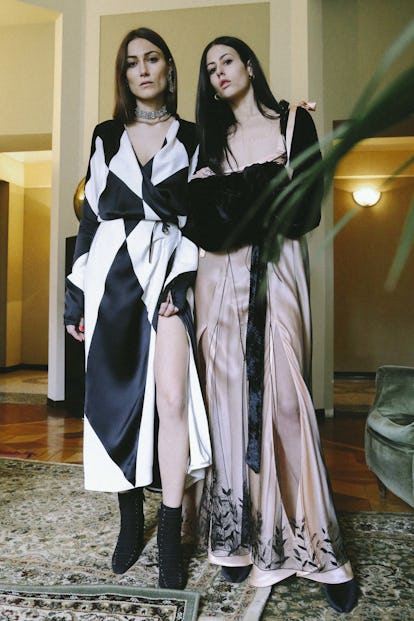 Courtesy of the Designers
Having permeated fashion the past few years, the pajama trend seems to finally be getting a rest—which is not to say that we've tired of the just-rolled-out-of-bed look. Now it's all about the robe, as evidenced most notably by new brand Attico. The Milanese line by street-style icons Giorgia Tordini and Gilda Ambrosio offers lavish dressing gowns meant to be worn—with casual confidence—beyond the boudoir. Here, the duo shares the secrets to their enviable wardrobes.
Define your style in three words: Gilda Ambrosio: Eclectic, messy, bizarre. Giorgia Tordini: Minimal, classic, timeless.
Daily uniform: Ambrosio: Supreme white t-shirt, jeans. Tordini: Black t-shirt, vintage Levi's jeans and flat shoes.
Preferred footwear: Ambrosio: Converse. Tordini: Gianvito Rossi high heels.
Greatest hits: Ambrosio: A Comme des Garçons flower-print dress with a crazy shape. Tordini: A Mugler vintage black short dress with a metallic belt with star buckles.
Finishing touches: Ambrosio: My rings and an extra-large safety pin I use on my jeans. Tordini: Gold Céline hoops.
Evening look: Ambrosio: My style doesn't change much between night and day. I may add red lipstick. Tordini: Something vintage and sparkly, high heels, smoky eyes
Best recent discovery: Ambrosio: Macrobiotic food. Tordini: Southern Italy.
Favorite stores: Ambrosio: Maryam Nassir Zadeh in New York, Dover Street Market in Tokyo, Nilufar in Milan for rare 20th century lighting, furniture, and carpets. Tordini: Violet Grey and The Row in L.A, Todd Merrill in New York.
Style pet peeve: Ambrosio: Ugg boots. Tordini: Ugly shoes.
Style icons: Ambrosio: Cher. Tordini: Charlotte Rampling.
Last purchase: Ambrosio: New Celine sparkly booties Tordini: Altuzarra wrap skirt
Lusting after: Ambrosio: Eating without gaining weight. Tordini: Having days made of more hours.
Favorite haunts: Ambrosio: Erewhon in L.A. Tordini: Torre di Pisa in Milan.
Always in your bag: Ambrosio: Phone charger. Tordini: Mason Pearson hair brush.
Giorgia Tordini and Gilda Ambrosio

Courtesy of the designer
Watch W's most popular videos here: