Big in Beijing
More than a decade after Giorgio Armani first set up shop in China, the international powerhouse is still flexing his muscle there.
---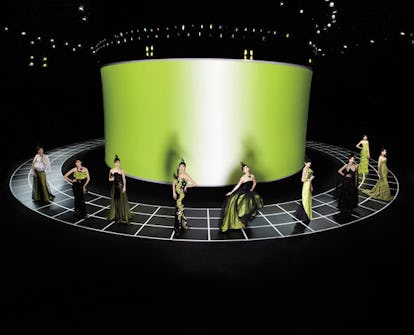 In his own way, Giorgio Armani likes to be ahead of the curve: In the eighties, he revolutionized the wardrobes of working women by replacing their brash, big-shouldered dresses with chic, deconstructed jackets; and in 1998, he opened his first Beijing boutique—well before China's economic boom lured every other major luxury brand (he now has 289 stores in that country). In May, Armani paid homage to the new superpower with a fashion extravaganza held at a former gasholder in Beijing's art district. It featured more than 220 looks from his fall collections, culminating in a finale of 15 striking couture pieces created specifically for the event. Once the designer returned from his peregrinations, we asked him to share his top 10 favorite spots in Beijing.
1. The National Grand Theatre (above) It struck me, with its incredible egg shape in glass and titanium. Surrounded by an artificial lake, it's accessed through a long transparent underground corridor. It is a monument to modernity, bearing witness to the changes Beijing is experiencing.
2. Gulou neighborhood Time appears to have stopped in these narrow alleyways twisting around traditional homes and courtyards. I went there by rickshaw to fully experience the area.
3. Temple of Heaven It's home to the extraordinary Hall of Prayer for Good Harvests, which was built without using a single nail.
4. 798 Art District Artists have transformed factory buildings here into a network of galleries, exhibition spaces, shops, publishing houses, design studios, restaurants, and cafés. I found the perfect location for my show in a decommissioned gasholder that was large enough to accommodate 1,000 guests.
5. National Museum of China (above) Located on the eastern side of Tiananmen Square, it houses an extraordinary collection of Chinese artifacts. I was particularly taken by the antique bronze pieces (like the ancient vessel pictured).
6. China Central Television Headquarters (above) There is no building in the world like this skyscraper, designed by Rem Koolhaas and Ole Scheeren. With its two 50-story "legs" and breathtaking silhouette, it appears to defy the laws of physics. This is an eloquent symbol of the new China: bold, energetic, and focused on the future.
7. Sanlitun Embassy District If you're feeling homesick and are looking for a trendy atmosphere, this cosmopolitan area is especially pleasant in the evening.
8. The Dali Courtyard (above) An outdoor restaurant in Gulou Dongdajie with a very intimate ambience. It serves traditional dishes from the Yunnan province.
9. The Great Wall I didn't think it would be quite so striking. As I admired it winding over the hills and disappearing into the mist, I was transported back to when it was patrolled by soldiers to keep enemies far from the Chinese Empire. Magical.
10. The Forbidden City (above) A place seeping with history. The great director (and my fellow Italian) Bernardo Bertolucci filmed The Last Emperor here.
Photos: #5: courtesy Of Traveler Guidance; all others: Getty Images