How Giovanna Battaglia Engelbert Built Her Career
Giovanna gives W an exclusive excerpt from her book "Gio_Graphy: Fun in the Wild World of Fashion."
---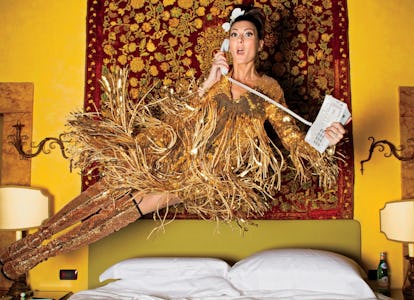 Photographs by Dylan Don; Styled by Giovanna Battaglia Engelbert
Anyone who regularly swipes through the Instagram feed of W Contributing Fashion Editor Giovanna Battaglia Engelbert or reads her monthly W column Gio's Journal knows that her playfully elegant approach to life is infectious. That sentiment is readily apparent in her new book Gio_Graphy: Fun in the Wild World of Fashion (Rizzoli) out this fall. Imagine a cross between a tongue-in-cheek style guide (one that tells you what to wear to get over a hangover, for example) and a dispatch from a worldly, joy-filled adventure (what it's like to attend a White House State dinner) and you have Gio_Graphy, which is filled with colorful fashion and travel images, punctuated by personal anecdotes.
In anticipation of the book's release, Giovanna and Rizzoli gave W an exclusive excerpt from Gio_Graphy, one that offers an intimate look at Giovanna's professional journey. And for those eager to get their hands on a copy, head to Bergdorf Goodman on Saturday, September 9th: Giovanna is designing the store's window displays themed around Gio_Graphy (they will be unveiled on September 2nd) and will be doing a signing of special editions of the book exclusive to Bergdorf's. Happy reading.
Fashion Worker
In 2014, I was in Capri styling a story for Vogue Japan, photographed by Boo George. There was a particularly extravagant Dolce & Gabbana Alta Moda couture gown that my editor Anna Dello Russo and I wanted to include and, of course, I had chosen as the setting a rock in the middle of the water a little ways out from the shore. In order to get there, you had to jump from one rock to another and the gown was so big that it took give people jumping from rock to rock, passing it over their heads one by one, to get it to the rock safely. Then the model, Nadja Bender, followed suit, jumping from rock to rock in just her underwear and a bra before putting on the dress. The point of the shot was that we wanted to show how majestic the gown was.
But as Mother Nature would have it, once Nadja was finally in place, the wind started blowing from behind her, deflating the dress like a flat soufflé. So I jumped out to Nadja's perch on the rock and then crawled under her dress, crouching into a shape that puffed the skirt out into the voluminous silhouette we wanted. A few click later, we had the shot!
This is only one of countless crazy things I have done to achieve the perfect picture in my career as a stylist and fashion editor. I've also run through a Russian park in freezing temperatures with the model Lindsey Wixson and the photographer Emma Summerton, chased by security guards claiming we didn't have the correct permits. I once worked with Max Vadukul to photograph twenty indie bands at the Glastonbury Festival, styling over fifty people over the course of three days, all of whom were in various stages of drunkenness. In Puglia, I chased down chickens who refused to stay put for a wedding being shot in a small village. For a jewelry story, I once dealt with a small dog who took off from the bedroom set wearing a million-dollar choker around his neck. The list goes on.
You have to bring the pictures home. I could hardly have imagined that this would be my life when I first started working in the fashion industry in my hometown of Milan at seventeen years old. I was a model; I didn't know what a stylist was at the time, as then it wasn't such a common term. People thought stylists were designers. (And even when I started styling years later, people still thought my job was about sewing.) Now, we (and I) know that stylists are people who tell stories with clothing. We're dream weavers who use fashion, in conjunction with hair and makeup and photography, to tell a tale.
I'd always loved the art of dressing up and putting clothes together—but it didn't take me very long to realize I didn't want to be a model. Even at that age, I knew I had more of an editor's eye than a model's constitution. Still, modeling helped me a lot because it made me financially independent at a very young age. And it also helped me learn how to navigate the fashion world. My mother was very protective of me—she wouldn't let me leave Milan and share an apartment with other models. So I stayed in Italy until I was eighteen. When I finally got to go to New York for a photo shoot, I got to the set and went into hair and makeup and it was just terrible, so I said, "What is this?' And then I saw the clothes and they were awful, too, so I told the editor that as well. Not surprisingly, they fired me. I was sad for about five minutes and then I went shopping. My agent called me and was like, "What happened?" I said, "They told me to go." And she was like, "What do you mean they told you to go?" And I said, "I told them I didn't like the hair and makeup or the clothes." That was my modeling career in New York. It lasted five minutes!
Back in Milan, I met the stylist Charlotte Stockdale. As I spent time around her, I slowly realized that hers was the job I liked most. I knew I wanted a job where I could combine my passion for moving images with my love of history, music, aesthetics, traveling and the arts. But I still didn't really know what being a stylist meant. So at one point I said to Charlotte, "Can I be your assistant?" And she said, "No, you need to just start on your own." But I did assist her on one job, helping Italian designers get their models into the looks. Of course, I knew all of the models from my own work as a model. They were all like, "What are you doing here?" I got to boss them all around. I loved it!
My first editorial job was for a very alternative magazine in Italy called Pig. I just showed up and said, "I want to do a shoot with you." It was an outer-space-inspired story. I figured everything out myself, paying for every mistake with my own money and energy. I used all the money I'd put away from modeling to support myself for the next three and a half years. Because I had been a model, it took a long time for people to understand that I wasn't just pretending.
The turning point was when Anna Dello Russo asked me to work with her at L'Uomo Vogue. We knew each other socially, and once we bumped into each other on a boat from Stromboli. "So, Giovanna, you're serious about being a stylist?" she asked. "Would you do menswear?" I was impressed that she knew I was doing something, because she was this legendary fashion editor. So I told her, "If it was with you, I would do Vogue Dog!" I started with L'Uomo Vogue in the summer of 2003.
Working as a fashion editor changed everything for me. A stylist is really only focused on the clothes, which is great fun and something I love. But being a fashion editor broadens the scope. Suddenly, instead of only thinking about what looks to shoot, I was also considering the hair, the makeup, the photographer, and, most importantly, how the story I was doing fit with the magazine's overall aesthetic and message. It's tough, because you have a world of rules to abide by—what works for Vogue may not be right for another publication. But it's a great responsibility to have and it made me proud. I loved representing the Vogue brand. It was like becoming a member of the major leagues. Fashion editors are similar to movie directors: instead of films, they make stories; instead of actors, they have models; instead of a DP, they have photographers. It was thrilling to think about the needs of a magazine and the audience that would take in my work.
A few years later, Anna left Condé Nast. I felt a bit orphaned, but I stayed and eventually, I started working for other international Condé Nast publications and even coming to New York for some jobs. I did Vogue Jewelry and Accessories for a few years. It was an amazing opportunity and I was so grateful to Franca [Sozzani] for the experience. But I was also feeling a bit claustrophobic in Italy. I wanted more than I could achieve there. And so, as with any relationship that has been important but run its course, I left and decided to go play in a bigger pool. I'd loved New York all of my life and I felt that if I wanted to become a better stylist, I needed to have a full experience in New York. New York is the number one city for media and I needed to go there to achieve the global vision I craved. If you want to succeed, especially in fashion, you have to take risks. Luckily, it paid off.
Giovanna Battaglia Engelbert Throws a Dress-Up Party With Her Chicest Friends
"My younger sister, Sara [far right], and I have dressed alike for theme parties and Halloween since we were kids—usually, I do the styling. When I moved to America and took on the nickname Bat Gio, naturally, we became the Bat Sisters. Since Bat Gio was inspired by my love of Batman, I thought the Bat Sisters should look like superheroes who are saving the world from fashion tragedies!"

Giovanna Battaglia Engelbert wears a Brandon Maxwell dress; Philip Treacy London mask; Cartier watch (right wrist). Sara Battaglia wears an Alexander Wang bodysuit; Philip Treacy London mask; Manolo Blahnik shoes.

Photographs by Dylan Don; Styled by Giovanna Battaglia Engelbert
"When it comes to fashion, red always reads as strong, positive, and bold. So of course, I chose Lauren Santo Domingo to demonstrate its effect. You need personality and a great smile to pull off red, and she has both."

Above: Lauren Santo Domingo wears a Giambattista Valli dress; Altuzarra shoes.

Photographs by Dylan Don; Styled by Giovanna Battaglia Engelbert
"To me, glittering clothes count as sensible neutrals."

Left: Battaglia Engelbert wears a Rochas dress; Engelbert ring (right hand); Giuseppe Zanotti boots.

Photographs by Dylan Don; Styled by Giovanna Battaglia Engelbert
"Who better to illustrate my love of color than an array of women who are all energetic and fun and bright in their own ways?"

Clockwise from top left: Aurélie Bidermann wears a Gucci dress. Laure Heriard Dubreuil wears an Attico dress. Missoni wears a Missoni dress and boa. Battaglia wears a Sara Battaglia top and pants. Artemis Baltoyanni wears an Ashish top and pants; Laurence Dacade shoes.

Photographs by Dylan Don; Styled by Giovanna Battaglia Engelbert
"Margherita Missoni, in particular, is basically the personification of a rainbow for me in the way she dresses and lives."

Margherita Missoni wears a Missoni dress; Shourouk earring.

Photographs by Dylan Don; Styled by Giovanna Battaglia Engelbert
"My inner British countryside old lady–slash–Palm Beach doyenne comes out in my love of flowers. In another life, I could totally have been a florist. Eugenie Niarchos looks like an exotic botanical specimen posing on the sofa."

Eugenie Niarchos wears an Erdem top and pants; Gucci umbrella; Venyx earrings, necklaces, and rings; Aquazzura shoes.

Photographs by Dylan Don; Styled by Giovanna Battaglia Engelbert
"Alexia Niedzielski, Noor Fares, and Eugenie [right, from left] all have this really romantic, sweet beauty that reminds me of the magical whimsy of a flower-filled garden."

From left: Niedzielski wears a Gucci dress. Fares wears a Valentino dress. Niarchos wears an Erdem top and pants; Gucci umbrella.

Photographs by Dylan Don; Styled by Giovanna Battaglia Engelbert
"When two women show up to a party in the same dress, it's usually considered a faux pas. I have a positive take on it: You immediately have a built-in party pal (and maybe you make a new friend!). Bianca Brandolini d'Adda is the perfect person to twin with me because not only are we both tall Italian brunettes, but we also tend to like the same outfits!"

Right: Bianca Brandolini d'Adda wears an Altuzarra dress; Cartier watch (left wrist); her own bracelets. Battaglia Engelbert wears an Altuzarra dress; Cartier watch (right wrist).

Photographs by Dylan Don; Styled by Giovanna Battaglia Engelbert; Hair by Andrew Guida at Close Up Milano; makeup by Luca Cianciolo at Close Up Milano. Digital Technician: Claudio Fucili; Photography Assistant: Luca Ferrante; Fashion Assistant: Carlotta E. Tabaroni. Location: La Posta Vecchia Hotel
Watch: Gio interviews Balmain Designer Olivier Rousteing at Paris Fashion Week