Together, Girlpool Wades Into Their Future as the Saviors of Rock Music
With their sophomore album Powerplant, and their first on major label Anti-, Harmony Tividad and Cleo Tucker are growing up and going bigger.
---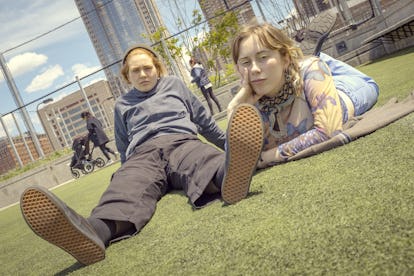 Alex Hodor-Lee
On a recent afternoon in her childhood bedroom in Los Angeles, 21-year-old Harmony Tividad, or one-half of the lo-fi punk rock duo Girlpool, was experiencing a rare moment of existential angst. "After hearing so much sound at once for a week, it all just kind of normalizes into this gooey banana mush in your brain," she said of playing South by Southwest last month to crowds that included Chloë Grace Moretz with her bandmate (and unofficial soulmate) Cleo Tucker, 20. "And it's like, What's the point?"
This was something of a surprise review; Girlpool has a reputation for exuberant live shows. "Like, What is at the root of it all? What is the essence of what drives the spirit?" Tividad continued as she moved the paws of her dog Sugar, whom she'd pulled up onto her lap, away from the screen where she was Skyping. She explained that, lately, she's been feeling a bit "musically constipated," and then clarified: "Kind of more existentially, honestly, What do I do anything for?"
It should be noted that Tividad has been reading her share of bell hooks and Baudrillard lately. And it seems only natural that Girlpool is maturing from the group that she and Tucker started in high school, when they first felt an inexplicable connection to each other at a D.I.Y. concert in L.A. It didn't take long for them to join a band together, even if they quickly split off to make music of their own. Now, they see each other almost every day; Tucker, who like Tividad moved back home to L.A. this year, even has a lock of Tividad's hair taped to the bedroom closet door. It's probably impossible to overstate their closeness, which is of course best witnessed via their music—a perfectly imperfect harmony, Tividad on bass and Tucker on guitar, and both singing in wonderfully sloppy unison.
After releasing an EP in 2014, Girlpool's 2015 full-length debut Before the World Was Big was a hit almost as soon as Tucker and Tividad were out of high school, and quickly launched them from playing covers in basements and other D.I.Y. venues to opening for Jenny Lewis, and then going on to headline their own international tour for almost a year. Their raw, earnest togetherness spoke loudest to those of their generation. "They represent a way of being that this generation identifies with on a spiritual and subconscious level," Willow Smith, an admirer, told The Fader in a 2016 cover story that positioned Girlpool, more or less, as the future of rock music.
Their sophomore album and their debut on Anti- Records, Powerplant, is out this Friday. On it, Girlpool's signature guitar-driven harmony is identifiable for all of about 50 seconds. It's at that point, on the album's title track, "123," that the drums kick in. Then it becomes clear that the duo is ready for their next step.
"I remember saying to Harmony, 'I felt like we were writing songs that were more rock music, songs that had the ability to get super climactic,'" Tucker explained. After all, they wrote almost all of the songs on Powerplant—a reference to the "the power plant within," Tividad said—during some rare time apart, while Tucker was based in Philadelphia and Tividad in New York. While banging out rhythms on the dashboard as they listened back to the songs they'd just practiced during drives up the New Jersey turnpike, the idea to add drums—and introduce a foreign element to their oneness—was born. "Right when we got to Harmony's house [in New York], we were hitting up our friends in L.A. who we knew we'd die to play with," Tucker said.
They recorded the album in L.A. last summer with their drummer Miles Wintner. In the year or so before they moved back there, the pair signed to Anti- Records, the label of one of their heroes, the late Elliott Smith, an influence on the album. When I broached the topic of stepping up from their DIY days to the platform of a cult label, Tucker yawned. The notion of fame does not seem to move either of them, in a way that felt genuine.
What does animate Girlpool, though, is touring. "I'm playing music, and I'm with my best friend playing music—and I get to eat somewhere I've never eaten before," Tucker said, suddenly revived. "It's like it's your birthday every night."
"I feel like touring is kind of like when you play Mario Kart and you have four different roads," Tividad added. "You're on the Rainbow Road with the stars, and you fall off really easily, but you're so happy. You're kind of like, 'I won some, and I lost some, but at the end of the day, I just love to play Mario Kart.'"
"That's good," Tucker said. "That's a good one, Harm."
See W's most popular videos: