Gisele Bündchen Can Meditate in the Back Seat of a Taxi
A skill for only the busiest of Zen masters.
---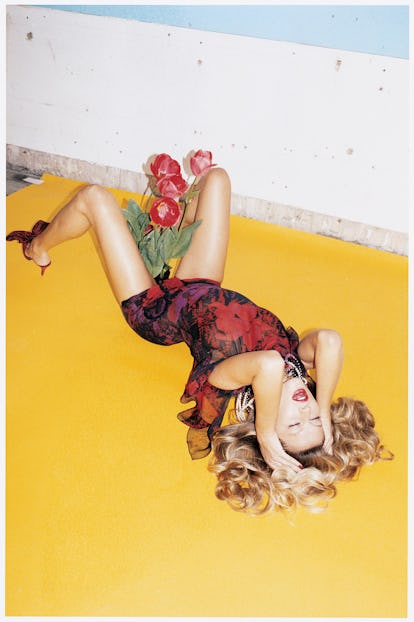 Countless studies prove the widespread benefits of meditation, and plenty of people regularly achieve this level of mindfulness by meditating every day. Then, there are people like Gisele Bündchen.
While being honored at the David Lynch Foundation's Women of Vision Humanitarian Awards (yes, that David Lynch) on Tuesday, the Brazilian supermodel revealed her otherworldly talent for meditating in the middle of New York City traffic. "The back of the taxi seems [an] unusual [spot] to meditate, but sitting in traffic while rushing around the city is the perfect time to center yourself, because it makes the ride better," Bündchen said, according to Page Six. It's unclear, however, how she manages to attain mindfulness while surrounded by honking cars and obscenity-shouting drivers.
Bündchen, 36, also cleared up comments she made last week on the Tonight Show about using meditation to help husband Tom Brady and the rest of the New England Patriots win this year's Super Bowl. "I did not change the score," she clarified, Page Six reports. "But it did help me stay calm, especially when things are out of my control."
Initially, when speaking to Jimmy Fallon last Friday, Bündchen described the emotional roller coaster of January's big game. "After screaming and praying and calling my family and asking them to pray, I started meditating, because it was the only thing that could calm me down. Because it was kind of crazy," she said. "And quite frankly, I channeled some great energy and, really, I feel a little responsible. I brought love and peace and clarity and calmness into the game. It shifted after that, I must tell you."
Bündchen shared that she has been meditating since her early 20s and added, "It has been such a wonderful tool, especially when I'm really anxious."
So, good news, then—it takes only about 15 years to become enough of a Zen master to be able to meditate in a cab in the middle of one of the busiest cities in the world and among crazed fans at the biggest football game of the year. Start practicing!
Related: Gisele Bündchen and Football: A Timeline of Sideline Cheering and Elevator Rants
Learn The Beauty Secrets of Super Models:
Gisele Forever: A Supermodel's Career in Pictures
Gisele Bündchen for Vanity Fair, 2009. Photo © Mario Testino / Taschen.
Gisele Bündchen in "Hothouse Flower," photographed by Juergen Teller, styled by Jane How; W magazine June 2005.
Gisele Bündchen photographed by Juergen Teller for a Sonia Rykiel campaign, 2014. Photo © Juergen Teller / Taschen.
Gisele Bündchen for Vogue Brasil, 2015. Photo © Paulo Vainer / Taschen.
Gisele Bündchen for V Magazine, 2004. Photo © Inez and Vinoodh / Taschen.
Gisele Bündchen photographed by Mario de Janeiro Testino, 2001. Photo © Mario Testino / Taschen.
Gisele Bündchen for Pirelli Calendar, 2006. Photo © Mert Alas and Marcus Piggott / Taschen.
Gisele Bündchen in "Kiss the Sky," photographed by Mert Alas and Marcus Piggott, styled by Alex White; W magazine August 2008.
Gisele Bündchen, 2016. Photo © Taschen.
Gisele Bündchen, 2016. Photo © Taschen.