Gisele Bündchen Is Still the Highest-Paid Supermodel on the Planet
Forbes released its list of highest-paid models, with Gisele in the top spot yet again. Plus, friends and foes in the hip-hop world.
---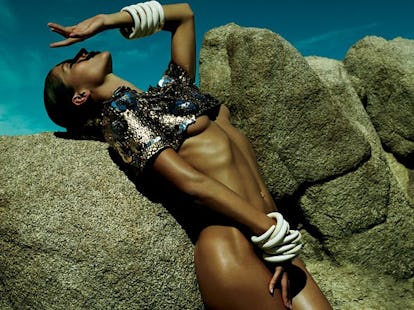 Photographed by Mert Alas and Marcus Piggott. Styled by Alex White.
Bravado With names like Kanye West, Justin Bieber, A$AP Rocky, and Desiigner on their roster, the brothers of Bravado are the inarguable kings of merch. (Even though merch is probably on its way out.)
Brown, Chris The singer was arrested at his Los Angeles home on Tuesday — he reportedly threatened a woman with a gun, ordering her to leave his house. He's been charged with assault with a deadly weapon.
Bündchen, Gisele Unsurprisingly, still Forbes's highest-paid model in the business; according to the magazine's annual wealth rankings, which were released Tuesday, she's far and away the best-compensated model around, though Karlie Kloss and Kendall Jenner are on her tail.
Kamaiyah Rising star of the rap world who recently starred in the "Why You Always Hatin" video with Drake and YG. Oh, and she's all about representation.
Kawakubo, Rei Rumored next subject of the Metropolitan Museum's Costume Institute, just the second time ever that the exhibition will focus on a living designer.
Khaled, DJ In a brief feud with Goyard. They're all good now, guys.
McQueen, Alexander To be the subject of a new drama, The Ripper (named for his graduate collection, 'Jack the Ripper Stalks His Victims'), reportedly about his relationship with his muse Isabella Blow, the Sunday Times fashion editor at the start of his career.
Staples, Vince Rapper, feminist, kitchen wares connoisseur.
Vaccarello, Anthony Putting a hold on his eponymous label in order to focus on his new gig as Hedi Slimane's successor at Saint Laurent.
Watch W's most popular videos here: