Gisele's Still On Top
In case you missed them, here are the top style stories from the week
---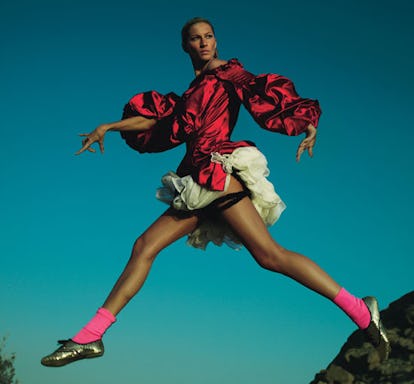 Photographer: Mert Alas & Marcus Piggott Stylist: Alex White
Band of Outsiders Cast sisters Rashida and Kidada Jones in its new ad campaign. Forces the question why was Peggy Lipton not included?
Blow, Isabella The style icon, who died tragically in 2007, is being brought back to life in a new play. In Miami, of course.
Brinkley Cook, Sailor The daughter of Christie Brinkley is now with IMG models; with a name (and genes) like that, what else would you expect?
Bundchen, Gisele Tops Forbes's list of the world's highest paid models. For the 7th year in a row.
Cher Will have costumes designed by Bob Mackie for an upcoming performance. If it ain't broke…
Delevingne, Cara Decided it wasn't enough to just be a model; has now added singer to her resume.
Diesel Cast the stars of its new ad campaign through Tumblr. Could also have benefitted by an appearance from Peggy Lipton.
Drexler, Mickey Will apparently have a cameo in Breaking Bad. No word as to whether or not Jenna Lyons will be guest styling.
Erichsen, Freja Beha The model is designing a capsule collection for mother, because model/singer of the week was already taken.
GQ Attention boys: you can now preview the magazine's collaboration with Gap.
J. Crew Now selling a $1,000 T-shirt that will most likely not appear on Breaking Bad.
Middleton, Kate Caused a frenzy by wearing a DRESS in the first official family portrait that common people could both AFFORD and BUY. The insanity.
Nail Art Will be the subject of a reality TV show; has officially jumped the shark.
Phan, Michelle The Youtube sensation will launch a makeup line. Why has this taken so long?
Rogien, Jenn The Girls ** stylist was just hired by Gap. Stay tuned for unflattering rompers and plastic skirts on mannequins everywhere.
Sephora Caught a woman who attempted to steal almost $3,000 worth of makeup. That's a lot of lipstick.
Tanning A new study reveals that 30% of white teenage girls use indoor tanning salons; study also reveals the unfortunate prevalence of The Jersey Shore.
Wintour, Anna Appeared on Vogue 's Instagram account. Goes viral.
Woodley, Shailene The Spectacular Now ** actress earns the title "Rihanna of the Week" by cutting her hair. Good move.
__Zoe, Rachel__ Announced that her TV show, The Rachel Zoe Project, is officially done. Bananas.