Gladys Knight and Patti LaBelle Hosted the Verzuz Battle to End All Verzuz Battles
Auntiechella was in full swing on Sunday night.
---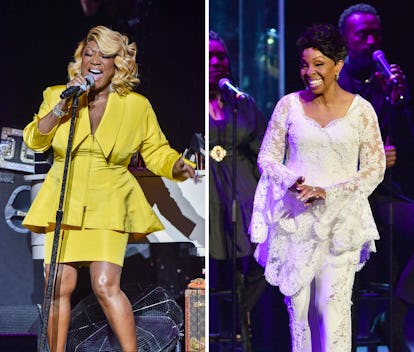 L: Photo by Aaron J. Thornton/Getty Images / R: Photo by Johnny Louis/Getty Images
If Saturdays are supposed to be for the boys, then we can go ahead and exclusively reserve Sunday nights for the aunties.
After the success of the Brandy vs. Monica musical tête-à-tête, it seemed like it would be hard to top that with another legendary Verzuz battle. (They did, after all, make history by breaking over 1 million views of the live stream on Instagram). But leave it to none other than the OG divas supreme—Gladys Knight and Patti LaBelle—to bring the Verzuz battle to another level.
Everyone from Michelle Obama to Oprah Winfrey to Missy Elliott tuned in to watch the Motown musicians give a master class in belting while sitting down, with Knight singing "Midnight Train to Georgia" and "Neither One Of Us (Wants To Be The First To Say Goodbye)" from her days performing with The Pips, and LaBelle singing "Lady Marmalade" and "If You Asked Me To" (which she reminded us all was recorded before Céline Dion tried her hand at it) from a location in Philadelphia. Ludacris, Brandy, Kelly Rowland, Snoop Dogg, Holly Robinson Peete, and more kept commenting throughout the stream—many of them making note that they wish both of these musical legends could have fixed them a plate before they got started with the show.
There were so many highlights from this Verzuz battle, like LaBelle and Knight both starting off the battle by reminding people that they are both Geminis and have recorded many of one another's songs, Knight expressing her love for the LGBTQ+ community and LaBelle kicking off her shoes while singing "Somewhere Over the Rainbow" (and changing to a few different pairs throughout). Of course, the night didn't go fully without a hitch—the sound technician did forget to put up the proper lyrics on the teleprompter at least twice, setting off what could have really become a "Where are my background singers?" moment from LaBelle.
LaBelle also had the comments in an uproar when she admitted that she still uses a flip phone (after last week's Verzuz battle between Brandy and Monica, album sales for both musicians soared, so don't be surprised if flip phone sales go up in the next few days), and LaBelle insisting that she has actually learned something from the younger generation of singers, like Jennifer Hudson, who performed last month at John Lewis's funeral and will portray LaBelle and Knight's contemporary, Aretha Franklin, in an upcoming biopic.
But perhaps the biggest surprise of all was when Dionne Warwick appeared to sing "That's What Friends Are For," which she recorded with Knight many years ago.
It's hard to say there was a clear winner of this Verzuz battle, but it's safe to say it will really be hard to top something that was this legendary with the next one.
Related: Monica Had Her Fendi Prints On at the Brandy vs. Monica Verzuz Battle