Breaking the Mold
A new generation of artists is giving glasswork some serious edge.
---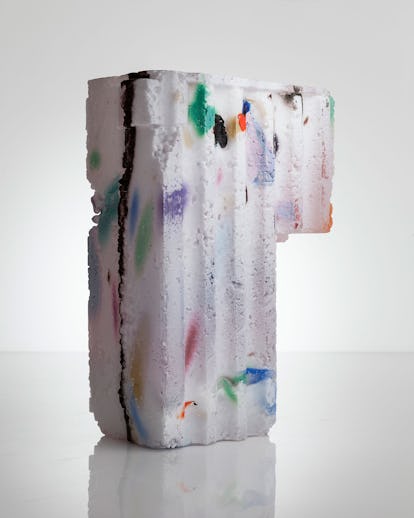 As the boundaries between art, design, and their unsung cousin, craft, continue to blur, it's becoming more common to see designers making work with their own two hands in wood, metal, and even plastic. But glass, which is notoriously difficult to master, has been conspicuously absent from that list. At Design Miami/Basel last summer, however, three contemporary glassblowers had pieces on view—big news for a medium that has scarcely evolved beyond the '80s Dale Chihuly craze. "A new scene has emerged of people who are pushing ideas and materials forward at the same time," says Zesty Meyers, whose New York gallery, R & Company, represents both the 46-year-old glass pioneer Jeff Zimmerman and the 35-year-old up-and-comer Thaddeus Wolfe.
To make his rough-hewn lamps and vases, Wolfe uses meticulously carved Styrofoam forms and plaster molds, both of which are destroyed in the process, ensuring that each piece is one of a kind. "I'm trying to create something that achieves the visual complexity and beauty you find in nature," says Wolfe, who trained with Zimmerman as well as with the conceptual artist Josiah McElheny before establishing his own practice in Brooklyn six years ago. And though his work has gained popularity among serious collectors, Wolfe spent several years—not to mention nearly $100,000 in materials and studio fees—before he sold a single piece. The 34-year-old French designer Jeremy Maxwell Wintrebert had it even harder when he moved back to his native Paris eight years ago, after honing his glassmaking skills in San Francisco; Murano, Italy; and Czech Republic. "There were no glass artists and no glass studios at all," Wintrebert says. After the galleries he approached rejected his elaborate African-inspired vessels for being too craftlike, he canvassed local design showrooms, landing with the Italian furniture brand Maxalto, for which he produced a series of streamlined vases. He is currently represented byGallery Fumi in London, where his filigreed cloud lamps and bold glass-legged tables have found an enthusiastic audience. (Fumi also recently took on another glass artist, Stockholm's Simon Klenell.) This spring, Wintrebert will open a communal studio and exhibition space in Paris to encourage other glassmakers to develop their style.
John Hogan, 30, is opening his own fabrication space in Seattle (Chihuly's stomping ground), called Ballard Assembly, with the objective of matching the city's legendary glassblowing talent pool with product and furniture designers. Hogan was a practicing glass artist when he began working with local designers two years ago; he's created light fixtures with the Seattle firm Ladies & Gentlemen Studio and the designer Erich Ginder, and has plans to launch projects with the metal fabricator Iacoli & McAllister and the L.A. furniture-and-lighting studio Atelier de Troupe at the International Contemporary Furniture Fair in May. He's also partnered with the New York design showroom Matter.
Photos: Breaking the Mold
Jeremy Maxwell Wintrebert's Human Nature at Lamberts Glas, a factory in Waldsassen, Germany, 2013. Photograph by Laurent Vilain.
Thaddeus Wolfe's hand-blown, -cut, and -polished–glass vessel. Photograph by Joe Kramm/R & Company.
Jeff Zimmerman's crumpled vessel in silver mirrorized hand-blown glass, 2015. Photograph by Joe Kramm/R & Company.
John Hogan's hand-sculpted Atlas table lamp, 2014, a collaboration with Ladies & Gentlemen Studio. Photograph by Charlie Schuck.
Detail from Wintrebert's studio in Paris. Photograph by Vinciane Verguethen.
Wintrebert's Futurama vase. Photograph by Jeremy Josselin.