Glenda Jackson, Age 81, On Returning to Broadway in Three Tall Women
Two-time Oscar winner, former Labour Party MP, and all-around firebrand Glenda Jackson has never been one to stand down. Now, after a three-decade hiatus, the 81-year-old actress returns to Broadway.
---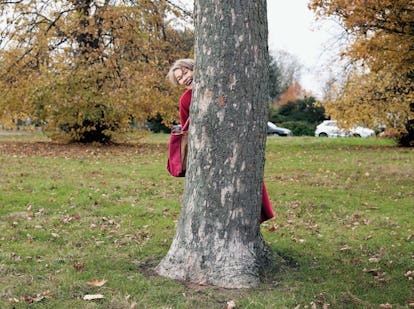 Photograph by Nigel Shafran; Hair and Makeup by Liz Daxauer For Hair by Sam Mcknight and Laura Mercier at Caren
Back in the early days of the sexual revolution, there was Glenda Jackson, seemingly fearless, leading the charge. The two Oscars that the British actress was awarded, in 1970 and 1973—neither of which she showed up to collect—seemed to endorse the attitudes of the women she portrayed. In Women in Love, she was a free-thinking sculptor who walks away from romance to pursue her own ambitions; in A Touch of Class, a divorced fashion designer who enters into an affair with a married man for the sex. In the space of three years, starting in 1969, she appeared in three films featuring bisexual love triangles (The Music Lovers and Sunday Bloody Sunday, along with Women in Love). You could argue that Jackson was an unlikely avatar for women's independence, as the wife of the only man she had ever slept with because, she later explained, marriage seemed morally preferable to living in sin. And yet, to those of us looking for role models at the time, she seemed well qualified—strong-minded and outspoken, following the example of her mother and aunts and neighbors in Birkenhead, a small town in the northwest of England, where she was raised during wartime by women who did all the jobs. Their capability was never questioned.
Now, half a century after those initial films, she finds herself out in front on another crusade—not that she volunteered for this one either. The cause is every bit as audacious, though somewhat less glamorous—no writhing nude on the floor of a train compartment, as she did in The Music Lovers, or sharing a bisexual lover with a gay man, as in Sunday Bloody Sunday. At 81, after an absence of 30 years, she is returning to the Broadway stage in Edward Albee's Pulitzer Prize–winning Three Tall Women, a play considered avant-garde when it first ran in New York, in 1994, for its forthright depiction of old age. Albee forgoes the tired jokes about memory loss and incontinence, and avoids drawing a line between us, the audience, and them, the elderly, to reassure us that their fate isn't ours. Instead, Three Tall Women places us squarely on the side of Jackson's character, identified only as "A," who is clinging to whatever dignity she has left.
Jackson herself defies our expectations for people in their ninth decade. She is not grandmotherly (though she is a grandmother). Nor is she ready to step aside, resigned to her own irrelevance in a world now run by the young. After serving as a member of Parliament for 23 years, she left politics in 2015, not because she wanted to retire but because "it was time for someone else to have a go." She had no intention of resuming her acting career, but the offers came in. First, for a BBC radio series, a dramatization of Emile Zola's ­novels. "I've always loved radio, because you don't have to wear makeup or learn your lines or worry about bumping into the furniture," she says. Then, after she went to Barcelona to see her friend the great Spanish actress Núria Espert as King Lear, Espert suggested that she take on the role herself. "And I said, 'Don't be ridiculous; nobody would let me play Lear in England.' " But after she met with Old Vic artistic director Matthew Warchus and told him she wanted to have a run at it, he started planning a production with the director Deborah Warner. In preparation, Jackson went to the community pool every morning and swam, to build up her stamina.
The accolades were unanimous. As for the sensational bit of casting—a woman as the broken-down king—no one ever raised the issue, she says. "It simply was not a gender-bender production." She inhabited the role as written but made no effort to look like a man. "One of the interesting things for me about Lear, what I've found is that as we get older, those hard-drawn territorial lines that define gender, which we are subject to the minute we're born, begin to fray, to blur," she says. "We're all human. Regardless of the envelope."
Many people, when they meet with success, have no qualms about trading in the values they were raised on for those of their new peers. But with Jackson you get the sense that any such move would have constituted a betrayal­—of her family, of the solid members of the working class she knew growing up, of the people she represented as an MP. She lives in a house she shares with her son, a political columnist, and his family. She scrubs her own bathtub. She still harbors a backlog of indignation, much of it, it seems, on other people's behalf. During her tenure in Parliament, she delivered a resounding (and posthumous) denunciation of Margaret Thatcher and her namesake era, when "everything I had been taught as a vice, under Thatcherism, was in fact a virtue." Her speech has attracted more than 1.5 million hits on YouTube.
The week Jackson and I spoke had been a busy one in the news. Allegations of sexual harassment and assault had been toppling Hollywood kingpins, publishing executives, a famous comedian. Using #MeToo, millions of women chimed in with their own stories. Meanwhile, in England, a dozen members of ­Parliament were under investigation, and the defense ­secretary had stepped down. Was this a watershed? While feminists were busy celebrating a long-overdue day of reckoning, Jackson was more circumspect. "What I find interesting is the underlying hypocrisy," she said, "as if nobody knew this was going on, which is utterly absurd—everybody knows, and it goes on in every single area of life. And you know, it doesn't have to be sexual harassment. There's just this automatic belief that women can be bullied, that their opinions are reserved for a very narrow lane of human life."
Not long after she was first elected to Parliament, someone asked her, "How are you going to manage in what is essentially a men's club?" Her answer: "Well, that's been my experience all my life."
Jackson is forthright about the misogyny she encountered in the industry, about the droit du seigneur that went unchallenged in Hollywood. There were roles she considered one-dimensional or simply not credible as laid out in the scripts. How much has changed in that regard? "Virtually nothing, actually," she says. "It seems to me remarkable that writers still don't find women interesting, that women are still seen as being an adjunct to what is the main dramatic force, and that is the male lead."
Three Tall Women, with speaking roles only for the three female leads, appealed to Jackson because it presented the chance to work solely with actresses. In the second act, the three women become the same woman at three different phases of her life. Albee based ­Jackson's character, A, who's 92, on his own mother. A is still concerned with her appearance. "I have to look pretty," she says. Opportunities in her generation—as now—were not quite so limited if you did. Jackson sympathizes, but offstage it seems she feels no obligation to ingratiate herself, as women routinely do. When she ran for Parliament as a member of the Labour Party in 1992, The Wall Street Journal asked her why she wasn't wearing makeup. With age, she says, she has now arrived at what she calls "the happy position that this is the way I look. If you don't like it, don't look at me."
Aging has never been a problem, Jackson claims, "because I never regarded myself as being employed for the way I look." In fact, to hear her tell it, you would think she'd been employed despite the way she looked. As a miserable teenager, she was, by her own account, short and fat, with lank, greasy hair and terrible acne. "I was just ugly," she told Chris Bryant, her biographer. "I minded very much; in a way, your confidence stays a bit dented forever after years like that." Peter Brook, who would go on to direct Jackson in numerous roles, most famously in her harrowing performance as ­Charlotte Corday in his 1967 Marat/Sade, recalled their first meeting, an audition: "I had seldom encountered anyone so determined to be concealed. She hid behind an ugly thick overcoat, a scarf, a woolen hat, a scowl, half-closed eyes, and a sarcastic, defensive voice."
Which brings us to the conundrum at the heart of Jackson's astonishing career: a woman whose self-loathing compels her to hide in plain sight choosing to do the job of an exhibitionist, standing before an audience and commanding their scrutiny, stripping down to her skin and baring all. It's hard to square Jackson's overriding shame in her own appearance with her uninhibited performance opposite Oliver Reed in Women in Love, or her portrayal of the bored wife of Michael Caine, playing an English novelist, who runs off with Helmut Berger in The Romantic ­Englishwoman. Hard to square because she looks beautiful, with prominent cheekbones, a sullen mouth, gamine eyes. It is perhaps testimony to her talent as an actress that she knows how to act beautiful—how to carry herself, meet the camera's gaze, hold her own opposite a ­charismatic leading man the way women confident in their looks do. Beneath the surface of Three Tall Women runs an undercurrent of disappointment, as the youngest confronts the two older versions of herself. "I will not become…that!" she tells them. Like all the rest of us, she will in time marvel at the discrepancy between the lives we intended and the lives we have instead. Would Jackson's early self, meeting her now, be surprised at the way her life has turned out? "When I was a girl," she says, "there were rigid divisions to what females could do as opposed to what males could do. But in the many decades that I've been alive, that girl I was 60 years ago, so many of those things have changed, and I've done things—there have been possibilities I would not have imagined."
So, while equality remains elusive, there has been some progress. "Perhaps we are waking up to the fact that as a species we waste half of the available talent," Jackson says. We look to Jackson as a reminder—still—that deference is overrated, that the best way to make change happen is to go where it's needed, without asking permission.