Glenn O'Brien, Beloved Downtown Wit and "Style Guy," Dies at 70
O'Brien, who spent decades ruling downtown New York, along with Andy Warhol's Factory, was never afraid to get a bit cheeky.
---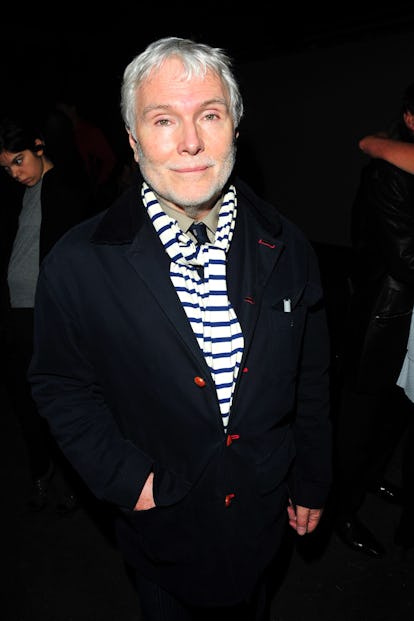 Patrick McMullan/Getty Images
Glenn O'Brien may have been born in Cleveland, but the writer, editor, and professional man about town has been inextricably linked with New York since the '70s, when he got his start at Andy Warhol's Factory, until his death today at age 70. (Not that O'Brien was ever exactly public about his age: "A lady doesn't answer that question," he once told the New York Times.)
It wasn't just partying with Warhol, though—not to mention starring as an underwear model inside the Rolling Stones' 1971 album "Sticky Fingers"—that got O'Brien his start. He was also the first-ever editor of Warhol's Interview magazine, a gig lasted from 1971 to 1974, and that found O'Brien working once more with his classmate from Georgetown University, Bob Colacello.
O'Brien would stay in touch with Colacello for years, as well as more than keep things going editorially. Post-Interview, he launched a decades-long career of freelance writing and regular magazine columns, from music criticism in his column "Glenn O'Brien's Beat" to monthly art-world musings in Artforum to his longtime gig as "The Style Guy" for GQ, which lasted for 16 years.
Through all that, O'Brien also stuck with editing, and definitely stuck with doing things on his own terms. After all, it's thanks to O'Brien that we have the phrase "editor at large," which describes his post most recent post at the magazine Maxim, but originated when O'Brien made it more than clear he'd like to keep his job at High Times anything but full-time in the late '70s.
It was around that time that O'Brien found a new medium, too: In 1978, he launched a public-access TV show in New York called __TV Party, whose guests ranged from Robert Mapplethorpe to David Bowie to Iggy Pop to Steven Meisel to Debbie Harry. Guests would alternately perform and sit for interviews—during his, the artist Jean-Michel Basquiat pointed out O'Brien was mispronouncing his graffiti moniker, Samo, and O'Brien, in his typical deadpan, simply suggested Basquiat add a parenthetical reading "SAY-MO" to his tags to clarify things.
Not that instances like that stopped O'Brien from reprising his role as host. Decades after _TV Part_y wrapped in 1982, O'Brien started a new series in 2015 called Tea at the Beatrice, whose guests ranged from Nan Goldin to Leandra Medine to Gisele Bündchen.
Clearly, his cheekiness had hardly faded in the years since: "Right, like Liberace, you only need one name," he remarked to the world's highest paid supermodel, before asking her what she did for a living.
See W's most popular videos: