Julianne Moore Vows to "Go Down Dancing" in New Gloria Bell Trailer
John Turturro plays her adventurous new boyfriend in the film, out March 2019.
---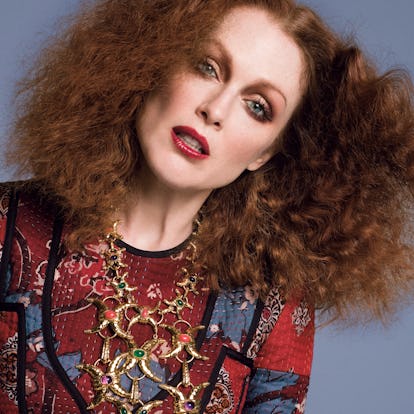 Photograph by Inez and Vinoodh Matadin for W Magazine.
You can stop holding your breath now: The latest entry in that venerable canon of films in which Julianne Moore plays complicated and intense middle-aged women caught in some kind of emotional turmoil has finally arrived. In the new trailer for Gloria Bell, Moore, in the titular role, is a divorcée who spends her time holding down a mundane office job, belting along to Olivia Newton-John on the highway, and dancing at nightclubs. This insulated life is seemingly rounded out only by the occasional lunch date with her mother (Holland Taylor), and a strained relationship with her adult children, played by Michael Cera and Caren Pistorius.
That all changes one fateful night at the club—as it too often does—when Moore catches the eye of another swinging single (John Turturro) across the dance floor. The pair strike up a conversation, and next thing you know, Gloria is getting bikini waxes, swinging on ropes courses, and having sweetly silly poetry read to her by the adventurous Arnold. The fast-moving relationship, of course, is put to the test—at Cera's character's birthday dinner, when Arnold comes face-to-face with Gloria's boisterous ex-husband, played by Brad Garrett, and comes away feeling like he "didn't exist." Apparently realizing how quickly and deeply she's dived into the whirlwind romance, Gloria puts some space between herself and Arnold and, we can infer from the trailer's final montage of Moore strutting down hallways and yelling empowering things off balconies, must reckon with the plan she'd so carefully laid for the rest of her life.
Watch it all go down in the full trailer, below, before Gloria Bell arrives in theaters on March 8, 2019.
If the trailer and storyline seem suspiciously familiar, that's because they are: The new film is an almost shot-for-shot reimagining of Sebastián Lelio's 2013 film Gloria, which was Chile's submission for that year's Foreign Language Oscar (though it did not receive a nomination). Lelio, whose most recent projects include Disobedience and the Oscar-winning A Fantastic Woman, directed his own remake, and explained to Deadline earlier this year why he'd been so eager to approach the same storyline again. "I think I found lots of reasons to revisit this material, almost like it was a play—you give another chance to the material, and you find whatever is universal, and find a new vehicle for that, you try to make it resonate with the current times and…make it work in a different culture," he said. "I think all of those challenges were really maybe frightening at the beginning, but later they became exciting, and then to have the chance to work with Julianne and John, with the rest of the cast, was just such a privilege."
Related: Meryl Streep Inspired Julianne Moore to Be an Actress