The First Trailer for Netflix's Glow Celebrates 1980s Women's Wrestling
Alison Brie stars in the upcoming Netflix series.
---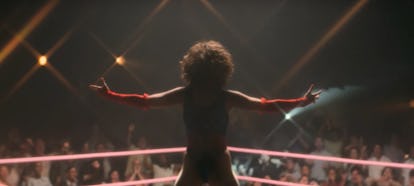 Netflix
Netflix just dropped the first trailer for GLOW, a new series set in 1980s Los Angeles that promises to immerse viewers in the world of women's wrestling. And it looks like it's going to be a knockout.
GLOW, which stands for Gorgeous Ladies of Wrestling, stars Alison Brie as the broke actress Ruth Wilder. Ruth's acting career isn't going so well—the trailer opens with a cringeworthy audition scene, but her luck finally turns around when she finds herself at an audition for a wrestling show called GLOW, along with a crop of other "unconventional women." The 12 wrestlers who make the cut are refreshingly diverse, though this isn't a surprise, considering the team responsible for Orange Is the New Black is also behind GLOW.
"Are you hiring actors to play wrestlers or are we the wrestlers?" Ruth asks the show's director, who is played by Marc Maron, in the trailer. "Yes," he responds. The trailer then launches into a montage of wrestling rehearsals; sassy comments from GLOW's star, a washed-up soap opera actress who happens to be Ruth's rival; Hollywood parties; and, of course, a few men who have the nerve doubt the women's abilities along the way. The trailer culminates in Ruth triumphantly standing in a wrestling ring to the tune of a packed audience cheering her on.
If GLOW feels at all familiar, that's because it was inspired by the television show GLOW: Gorgeous Ladies of Wrestling, which ran for four seasons in the late '80s. A documentary about the original TV show was also made in 2012. The Netflix series, however, will imagine how the wrestlers became a part of the show and how the production came together.
GLOW is scheduled to hit Netflix on June 23.
See What's Trending in W Video: