Goldie Hawn and Kurt Russell Now Have Side-by-Side Stars on the Hollywood Walk of Fame
Star-crossed lovers, indeed.
---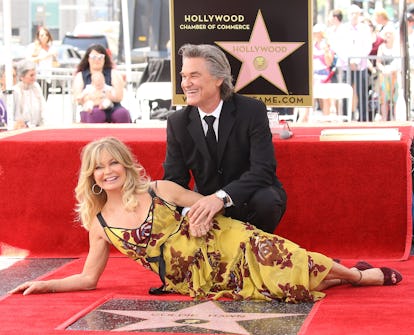 Michael Tran/FilmMagic/Getty Images
Goldie Hawn and Kurt Russell have both been in show business since the 1960s—and they've been partners for more than half of that timespan—so it's only fitting that when they were inevitably added to the Hollywood Walk of Fame, their stars would be side by side. Those stars were unveiled on Thursday in a ceremony during which Kate Hudson, Hawn's daughter, and Reese Witherspoon paid homage to the iconic pair, People reports.
"Can we just get married? We've never had a celebration like this before," Hawn, 71, joked at the ceremony. "That star is part of 'yes.' I really went through something then because I didn't know what it meant to be a star when people didn't know who I was…I said yes to Kurt Russell. I said yes to Bill Hudson, and without Bill I wouldn't have had Katie and Oliver. I wish my mom and dad could see me," said Hawn, whose new movie Snatched, co-starring Amy Schumer, comes out this month.
Russell, 66, also gave an emotional speech that focused on his family and, most of all, Hawn. "I owe a special debt of appreciation to my family," said the Guardians of the Galaxy Vol. 2 actor. "Thanks to my kids Boston, Oliver, Kate, and Wyatt. Any father would be blessed to be gifted with the lifetime you have brought me. Goldie, to you, I owe my wonderful life. Simply put, Goldie, I cherish you. All of the stars in the sky or the boulevard couldn't hold a candle to that. There's no one else I'd rather be next to than Goldie Hawn."
And if Hawn and Russell's speeches weren't enough, the couple also hammed it up with some PDA.
Hudson also praised the lasting bond between her mother and the man she calls "Pa," saying, "I was slotted in to talk about my mother, but I have two parents and they're both here." She continued, "Their philosophy is family first. As their child, what really stands out is somehow in their phenomenal careers, they've maintained normalcy with all of their children. They never hid away their love for making movies. For me and my brother, we grew up with artists. These shining stars standing next to me, their real legacy is what they've instilled in us kids."
To round out the star-studded event, Witherspoon took the stage to shower Hawn with love. "The first time I ever fell in love with a movie star was Goldie Hawn. She's continued to inspire me in my entire career. She is a true movie star," Witherspoon said. "She shattered all sorts of barriers for women. She changed the possibilities of what women can do in film. Thank you for making us laugh. She has lit up my life, she's changed my life and she's, quite simply, my idol. I love you, Goldie."
Kate Hudson, Actress and Activewear Entrepreneur, Explores the Sounds of Sequins in ASMR:
Kate Hudson wears Balmain's stretch silk lace and leather dress with zippers, to order, at Maxfield, Los Angeles, 310.274.8800. Yves Saint Laurent shoes; Lanvin ring.

Photographer: Mert Alas and Marcus Piggott Stylist: Alex White
Photographer: Mert Alas and Marcus Piggott Stylist: Alex White
Chanel's silk tulle dress, at select Chanel stores, 800.550.0005. Yves Saint Laurent shoes.

Hair by Luigi Murenu/Streeters for Kerastase Paris; makeup by Charlotte Tilbury/Management Artists; manicure by Yuna Park/Streeters. Production by LalaLand; digital Imaging by D-Touch; postproduction by Dreamer Post. Photography assistants: Angelo Pennetta, Gareth Horton and Maurizio Bavutti. Fashion assistants: Kathryn Typaldos and Martha Violante.

Photographer: Mert Alas and Marcus Piggott Stylist: Alex White
Kate Hudson on our September cover.

Photographer: Mert Alas and Marcus Piggott Stylist: Alex White
Kate Hudson in her Pacific Palisades residence.

Seen from the front yard, Kate Hudson and Chris Robinson's house in the Pacific Palisades has an air of tidy East Coast propriety. It suggests cashmere twinsets, roast beef dinners and a subscription to The Wall Street Journal. But walk through the front door and the mood changes, as if a band of bohemians had arrayed their parents' house with souvenirs of a world tour. Graphic paintings of the Kama Sutra hang near a Georgian mantelpiece in the living room, and the dining room's traditional table is illuminated by a large—and vaguely sinister—all-black Murano glass chandelier. A whiff of incense emanates from the pool house out back, which, with its blaring rock music, pulses like the hippie heart of the establishment…Read the article…

Photographer: Alexia Silvagni
Hudson in the master bathroom.

Photographer: Alexia Silvagni
Photographer: Alexia Silvagni
Photographer: Alexia Silvagni
Kate Hudson in her Pacific Palisades residence.

Photographer: Alexia Silvagni