The Goodie Bags (some Good, some Strange)
Lugging around status-y designer purses is just part of the job during Fashion Week. And while we may lament the battery to our shoulders, we still appreciate the opportunity to load up even more with...
---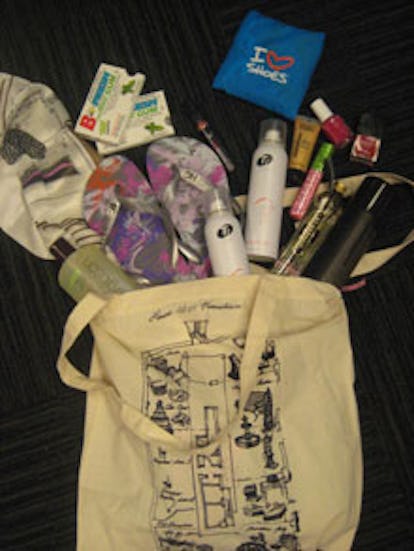 Some goodies, as in the school supplies-riddled bags at Alexander Wang, are completely useful. (Bonus: Wang's front row was gifted with a tank from his T-shirt collection, many spotted at shows the next day). Also playing the practicality card was Lacoste, which smartly left a zip-up satchel on every chair — perfect to haul the daily loot collected en route. (Photo above is of the tote from the Lorick presentation, filled with the extras collected from previous shows.)
Since looking good is critical, beauty brews also figure prominently. Derek Lam's coveted Kiehl's products are often said to be everybody's favorite. And what seems to be a season's worth of hair goo is amassed throughout the week, too. (Merci, Bumble & Bumble!) Carolina Herrera impressively bestowed show-goers with two cans of dry shampoo — a must for fixing bangs in this humidity.
The oddest item yet was the ball of yarn and knitting sticks (or cat toys, per a certain editor) from Ports 1961. Not only did the sticks protrude from the bags in a threatening manner, but the show featured only a couple of knit pieces. Another head-scratcher: The multiple boxes of condoms at Yigal Azrouel.
And let's face it, everyone could use a morsel to raise blood-sugar levels as they're trekking around. Snacks are few and far between in the bags, as are actual meals during the day, and mini packs of popcorn, a protein bar — basically anything edible — is much encouraged. In lieu of actual food, at least Catherine Holstein gave everyone a cube filled with breath-freshening Orbit gum (left). If only it fit in my bag(s).