Gordon VeneKlasen's Cabinet of Curiosities
Ming-dynasty ivory, religious reliquaries, and contemporary art cohabit harmoniously in the art dealer's Manhattan row house.
---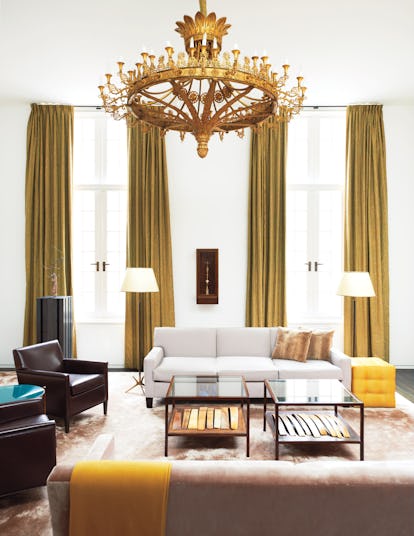 Photographed: Jason Schmidt
The provenance of an object—the history of who owned it—is highly valued in the world that the art dealer Gordon VeneKlasen inhabits. So it's only fitting that his redbrick row house in New York's Greenwich Village, tucked away on a gated street of former carriage houses–turned–artist studios near Washington Square Park, boasts a noteworthy roster of past inhabitants—one that tells the story of the neighborhood's changing face. In the early 1900s, the house was occupied by the American modernist sculptor Gaston LaChaise (Jackson Pollock and Isamu Noguchi worked down the block); then it belonged for a time to the artist Jeff Koons, who used it as an office and studio. VeneKlasen bought the place in 2009 from the hedge fund billionaire Daniel Loeb, who was living there with his wife and two children. Loeb happened to be a client of VeneKlasen's, and one night at a dinner, hearing that Loeb had just bought an apartment at 15 Central Park West—then the most expensive residential building in Manhattan—VeneKlasen asked Loeb's wife if it was true that they were moving. Yes, she said, they were about to put their house up for sale. "Do you want to buy it?"
And so he did, after selling his Gramercy Park apartment to his neighbor Jimmy Fallon. In short order, VeneKlasen enlisted his closest friend, the architect Annabelle Selldorf, to help him reimagine the three-bedroom, 1,920-square-foot family abode as a one-bedroom refuge that would house his eclectic collection of paintings, drawings, Brazilian furniture, religious reliquaries, and Ming-dynasty ivory tablets. Their collaboration flowed organically from their friendship, which took root in 1990 after the German art dealer Michael Werner asked Selldorf to design his gallery on the Upper East Side, and then hired VeneKlasen to run it. The Werner Gallery was the first of Selldorf's art world commissions, which now include galleries in New York and London for Werner, Hauser & Wirth, and David Zwirner; New York's Neue Galerie; and exhibition designs the world over for Gagosian. Having advised VeneKlasen on his living spaces dating back to the days when he had almost no budget and his collections were piled against the wall, strewn on the floor, or stuffed into drawers, Selldorf knew precisely whom she was dealing with. "Gordon is the most curious and voracious person I've ever met," she says. "He wants it all."
First on his list: a roof garden, which meant that the James Turrell light box had to go. (Loeb gave the piece to the Los Angeles County Museum of Art.) The renovation included adding a glass box at the entryway to separate the front door from the main room, turning a bedroom into a kitchen and a wine cellar into a library, and softening the modernist white interior with muted blues, violets, and pinks.
"I've never done anything without having long discussions with Annabelle," VeneKlasen said one day this past November. "We sit down over drinks and dinner and figure out what we're going to do." He was pouring tea in his living room, where Selldorf's trademark style—elegant restraint—was everywhere in play. She had used one of his favorite cashmere scarves as the inspiration for the dusty-rose velvet sofa on which he sat, and daylight was streaming through the 10-foot-high windows. The pink and gold Fortuny curtains were parted, but when closed and seen from the street at night, VeneKlasen pointed out, they radiate a yellow and red glow. "They look completely different on the other side," he said, explaining that the curtains were lined with multicolored silk. "I love looking up at them when I arrive."
VeneKlasen is at once exuberant, lighthearted, and serious, with a studious air and a nose for business. As the managing partner of the Werner gallery—which represents leading painters like Peter Doig, Georg Baselitz, Jörg Immendorff, and the late Sigmar Polke, as well as the newcomer Michael Williams, and has outposts in New York, London, and Märkisch Wilmersdorf, Germany, and a project space in Berlin—he is rarely at home. This past fall alone, he opened a show by Enrico David in London, flew to Los Angeles for the Hammer Museum benefit, to London for the Frieze Art Fair, to Paris for the FIAC fair, and then to Venice with Doig to discuss a 2015 museum project before returning to New York to open a show of Doig's early works. The night before I met him, he had hosted a dinner party for the British fashion designer Jasper Conran, a good friend, and was about to head to Mexico City for the opening exhibition of the new Jumex Museum, spotlighting the work of the late Werner artist James Lee Byars. His first real break would not come until after Art Basel Miami Beach, in December, following his annual Christmas party at home in New York for 250 art world insiders. One year, he told me, Jimmy Fallon "pogo-sticked" through the party. These days, Doig oversees the playlist.
When VeneKlasen is at home, Selldorf notes, "he likes everything to be just the way he wants it." (Case in point: His houses in New York and Easthampton and his condo in Los Angeles are all outfitted with the same beds, linens, and plates—for continuity.) His far-flung adventures are reflected in his unexpected arrangements of personal objects, which make his living room feel like a highly curated cabinet of curiosities. A German 17th–century carved-wood skull, a recent sculpture by Enrico David, and a 19th-century Tibetan ritual vessel sit atop a table that Robert Adam made for Apsley House, the Palladian manse he designed in the 1770s that later became home to the Duke of Wellington, who is said to have replaced the stone top of Adam's table with granite he brought back from his campaign against Napoleon in Egypt.
Another table, by the royal cabinetmaker Johannes Klinkerfuss, was once the writing desk of one of the kings of Württemberg; above it hangs a work by Jess—a cult figure in American art known for his idiosyncratic paintings—that VeneKlasen bought at an auction of the painter R.B. Kitaj's personal collection. Though an eye-popping 19th-century gilt wood and zinc chandelier by Karl Friedrich Schinkel is the room's centerpiece, vying for attention are tables and chairs by the Brazilian modernist architect Joaquim Tenreiro and an ivory reliquary of St. Philip that belonged to Pope Clement XII in the 1670s. "I love the idea of a personal relationship with a saint," said VeneKlasen, who started his now vast collection of personal religious objects when he had little money. "I mean, Venice was built around the bones of St. Mark. I'm totally fascinated by how mystical objects have power unto themselves."
As a child growing up in Santa Fe, New Mexico, VeneKlasen collected rocks; his father, a geologist for oil companies, collected gold pieces and the rattles of snakes he killed on the job. VeneKlasen went on to study art history at Connecticut College, with stints at University of Oxford's Ashmolean museum and the Prado, in Madrid, before going to work at galleries in San Francisco, Aspen, and New York. In the late '80s, he quit the art world altogether and spent a year in Zimbabwe, where his sister, Lisa, was directing AIDS-education efforts, before returning to New York and taking a job with the Census Bureau. He was assigned to "difficult cases," he said, which may have been ideal training for his gallery interview with the famously contrary Werner, who promptly hired him. "Michael was King of the '80s," he said of Werner, who lives in Berlin and oversees some of the gallery's historical shows. But when VeneKlasen arrived, conceptual and installation art ruled the day. "The early '90s were wildly anti-painting," he recalled. "The phone didn't ring until 1996."
During that time, he built a close relationship with the maverick Polke, who had shown with Werner on and off for 30 years. "I followed him all over the earth for three years, and he began to work with us exclusively," VeneKlasen said. In VeneKlasen's house, alongside paintings by Elizabeth Peyton, Andy Warhol, Doig, Salvador Dalí, and Francis Picabia, Polke is ever present, whether in his 1998 painting Salamander Stone, or in the series of photographs the artist gave the dealer as a birthday present in 2006. "We spent an hour laying out photos on the floor for what I thought was a photo show," VeneKlasen explained as we looked at them. "And then he turned to me and said, 'Happy birthday.' "
There is one room in the house, however, without artworks—and it is something of a work of art itself. When VeneKlasen and Selldorf began the renovation, Selldorf suggested they leave the guest bathroom the way it was. Why spend the money? "Then we went out to dinner one night, and after a couple of martinis I said, 'Why is everything in the house the way we want it but that isn't?' " he recalled. "So I told Annabelle, 'I want you to go crazy. Make it the most beautiful room in the house.' " She considered covering the walls with silver tiles stitched together with leather, but it proved too difficult. Then the contractor happened to mention that his friend had a roll of 100-year-old leached-copper roofing in his Brooklyn yard. VeneKlasen flicked on the light to show me how things had turned out. Shimmering with different colors, the bathroom's walls made me think of the seafloor. "They look like a Warhol piss painting," he said with a laugh, referencing Warhol's oxidations, the result of the artist and his friends urinating on canvases coated with copper metallic paint. "It's Annabelle's favorite room."
Photos: Gordon VeneKlasen's Cabinet of Curiosities
VeneKlasen's New York living room, with its gilt wood and zinc chandelier by Karl Frederick Schinkel, Joaquim Tenreiro glass tables, and collection of Ming-dynasty ivory. The dusty-rose velvet sofas and brown leather chairs are by Annabelle Selldorf.

Photographed: Jason Schmidt
VeneKlasen in his living room with Sigmar Polke's Salamander Stone, 1998.

Photographed: Jason Schmidt
A display bookcase, table, and chairs by Tenreiro in the dining room, with a collection of drawings in the background.

Photographed: Jason Schmidt
A 16th-century ivory reliquary of St. Philip.

Photographed: Jason Schmidt
The exterior of the house.

Photographed: Jason Schmidt
A bedside table by Selldorf, a Fontana Arte sconce, crystal pieces, and, in the silver frame, a Francisco de Goya reproduction that Polke kept on his refrigerator.

Photographed: Jason Schmidt
The ground floor, furnished with Paolo Buffa slipper chairs, a Gio Ponti coffee table, and an Edward Wormley sofa covered in antique Turkish fabric; over the fireplace is Enrico David's Untitled, 2009.

Photographed: Jason Schmidt
Peter Doig's Pelican Island, 2006, is poised above a table made by Robert Adam for Apsley House.

Photographed: Jason Schmidt
The guest bathroom is lined in aged copper.

Photographed: Jason Schmidt
Just one of the gallerist's many curio cabinets; the table and chairs are by Joaquim Tenreiro.

Photographed: Jason Schmidt