The New Gossip Girl Looks Very Promising
Hey Upper East Siders, the first look at the prep school elite cast filming the Gossip Girl reboot has arrived, fittingly, thanks to paparazzi.
---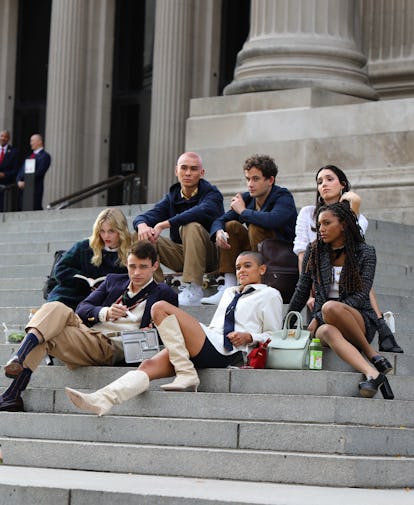 Getty Images.
Spotted: a group of wealthy prep schoolers with smoldering looks on their faces situated on the steps of the Metropolitan Museum of Art on New York's Upper East Side.
Yes, you're reading that right—a sneak peek of HBO Max's new Gossip Girl (reboot? reimagining? does it matter?) series has arrived, fittingly, thanks to a handful of paparazzi shots that made their way to Getty Images this week.
The reboot, which was initially slated to be released this year but was pushed due to the coronavirus, will be on HBO Max next year, and it appears as if plenty of pandemic precautions are being taken on set with the use of face shields and masks. It also appears as if this new iteration of the series will be faithful enough to the original in terms of the aesthetic, but updated for the current moment.
In the photos that have been making the rounds, Eli Brown, Zion Moreno, Jordan Alexander, Emily Alyn Lind, Savannah Smith, Thomas Doherty, and Evan Mock all wearing the Constance Billard School for Girls and St. Jude's uniforms, are seated on the steps of the Met, forming an iconic image from the show and original book series. Whitney Peak (playing a character that appears to be Gen-Z's answer to Little Jenny Humphrey?) sits by her lonesome a few steps down. Just to the side, passersby also spotted Tavi Gevinson and Adam Chanler-Berat, looking more like teachers than students. (And for your edification, we've already outlined some introductions to the new recruits, here.)
Kristen Bell, however crucial to the cast, will likely continue to voice the titular muckraker from the comfort of a recording studio.
Not too much is known about the plot of HBO Max's take on the aughts classic that ran for six seasons, but it is likely that this version will feature all new characters (and, if we had to guess, it looks like Doherty might be going for the wealthy antihero previously channeled through the character of Chuck Bass). Ultimately, introducing new characters is a good decision that leaves space for the possibility of a Blair Waldorf (Leighton Meester) or Serena Van Der Woodsen (Blake Lively) cameo somewhere down the line.
If you were on the fence about the reboot, these images might be enough to make even a Gossip Girl purist consider watching and asking the question, which one of these Upper East Siders might actually be the mastermind spilling every ounce of tea on New York's elite? Let the guessing games begin.