Are These the Gossip Girl Reboot's New Blair and Serena?
An investigation through set photos.
---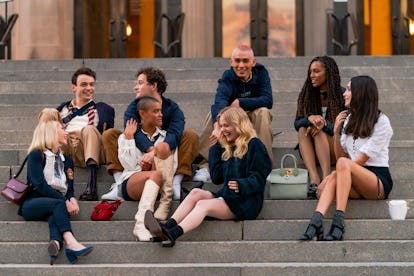 Getty Images.
We're still counting down the days left in 2020, but all the sightings of a Gossip Girl cast filming around Manhattan makes us feel like it's 2008 all over again. Production for HBO Max's upcoming reboot of the program is in full swing, and if it weren't for the copious sightings of face masks on the set we might really, really think it was a decade ago.
While we all expect something that reminds us of The CW original, there's actually little confirmed information about what to expect from the reboot. Only one character's name has even been revealed: Emily Alyn Lind's Audrey, and all we know about the character is that she's a good girl in a long-term relationship who starts to wonder what else life has to offer. Aside from that, we're flying blind.
It might be a huge leap to automatically assume that the new cast of characters will fall into similar roles once occupied by the Aughts originals, and, yet, the show does carry the Gossip Girl name. You have to assume there'll be a mix of old money insiders who roam the halls of Constance Billard and St. Jude's like American royalty in waiting and outsiders thrown into the prep school jungle and forced to deal with their privileged shenanigans. Co-creators Stephanie Savage and Josh Schwartz have promised more inclusive casting this time around (including LGBT characters and non-white leads), and hope to "subvert" the tropes of the original.
Of course, to subvert tropes, you have to lean into them a bit. It wouldn't surprise us one bit if the new cast of characters mirrors the original in some way. You have to expect a queen bee, her closest frenemie, and a lonely boy on scholarship, right? Here, our best guesses—judging from the set photos—about what to expect.
Is Jordan Alexander the New Blair Waldorf?
Actress Jordan Alexander isn't a household name (yet), but every set photo seems to put her character front and center—she's literally at the center of the photos we've seen of the cast assembled at the set of the Met. And in other photos, she's positioned a step ahead of two minion-esque characters (wearing a Christopher John Rogers gown, to boot). There are distinct vibes of Blair Waldorf's Queen Bee attitude shining through, and yet the character certainly seems more carefree and individualist than uptight Blair, who was obsessed with traditional markers of status. Headbands? This character doesn't even have hair. Note the way she's restyled her Constance Billard School uniform with no pants, but statement boots. She may not have Blair's exact style, but her position as the new queen bee of Constance Billard seems like a safe bet to make.
Is Thomas Doherty the New Chuck Bass?
When Scottish heartthrob Thomas Doherty was announced as part of the cast it was easy, if not a bit lazy, to assume his character may be in the vein of Chuck Bass (that character was played by an actor originally from the UK as well). Early set photos only offer stronger evidence: The undone bowie over the cable knit sweater. The little signet ring on the pinkie. The socks. He's giving devil-may-care dandy.
Other photos of Doherty emerged of him, presumably in character, running down the street in nothing but a silk robe and a pair of little Tom Ford briefs.
It all makes us think about one of the more odd original Gossip Girl production choices that aged poorly. The Chuck Bass character was written as bisexual in the original novel series, but rendered about 99.9 percent heterosexual in the CW show. Bisexual erasure was real, folks. Now, we're just wondering, would a dandyish young bisexual of certain economic means wear Tom Ford's $50 briefs? The answer isn't no.
Is Emily Alyn Lind the New Jenny Humphrey, Or the Serena?
We know the most about Lind's character officially, though we couldn't piece together whether she was supposed to be the Blair or the Serena of this generation. What if she was more of a Jenny along? We're reading a whole lot into very little, but the character is often seen off to the side, and her fashion choices aren't particularly notable either way. A little reserved. A little safe. Though, they do suggest some wealth (note the Saint Laurent clutch above). Perhaps she's the girl thrown in among the much more self-realized established queen bees of Constance Billard and trying to hang on for dear life?
Or she could be the new Serena-type. Her casting was the most initially hyped of the bunch, and announced before the others. The official description of her character doesn't have the same darker backstory as Serena, but it could be a red herring.
Is Whitney Peak the New Serena Van Der Woodsen? Or…Wait…Is she the Jenny? Or…Hold on…She's the Vanessa, right? Or a female Dan?
18-year-old Whitney Peak has appeared in numerous set photos, signaling that her character is a major part of the cast. Yet, she might be the hardest to read. In her first, she's seen in her school uniform, worn perhaps a little too up to code, though offset by a red tote bag from Revolution Books, a radical independent bookstore in Harlem. She eats her lunch alone out of a paper bag on the steps. It's a bit Jenny, but also a bit Vanessa. Then again, the biggest literary loner of the original cast was Dan. A switch in gender would be one easy way to subvert the original.
Then, however, in another shoot, we see her totally made up in a sparkly orange mini-dress in a tense stand-off with Alexander's character, which does indicate a bit of a classic B vs. S rivalry. Maybe she's the shy new girl, or she could be someone returning from a mysterious absence and gossiped about by the rest of the cast.
Then, in a final scene, we see her much more dressed down, hanging with Eli Brown's character, which is more classically Jenny or Vanessa. It's hard to make a call here, other than that Peak seems to have a particularly important role.
Is Eli Brown is the New Dan?
If Whitney Peak isn't, he has to be, right?
Is Evan Mock the New Nate?
If our assumption that the new Blair-esque character revels in alternative style holds, it would only make sense that the new Nate-esque character is a bit alt too (it's 2020, after all, and revolutionary chic is decidedly back). Before his casting, Mock was a surfer and skater turned model, which would be an appropriate update for Nate's athleticism and classic good looks.
Savannah Smith and Zion Moreno as The Minions?
The characters of Penelope, Jessica, Kati, Nelly, Hazel, and Isabel may not have become iconic individually, but together, as Blair's various minions, they were a major part of the show. In the photos we've scene, Smith and Moreno are almost always shown side-by-side and usually within the direct orbit of Jordan Alexander's character. If Alexander is indeed the new queen bee of the school, she's undoubtedly in need of a hive.
So, Wait, Who The Hell is Tavi Gevinson?
The former child fashion blogger turned actress comes into the series with the highest-profile (at least among certain types), and yet from the set photos the vibe of her character might be the hardest to pin down.
In most of the photos, Gevinson's character dresses more "teacher" than "student." Gevinson herself is 24, not an unheard-of age for a high school teacher, but some of the actors who play high school students are actually older (the correlation between an actor's actual age and the age of the character they play on teen soaps has never, notoriously, been particularly corollated).
Though, Gevinson does appear in at least one scene wearing the school uniform, suggesting her character is indeed a student…albeit one who tends to dress much older outside of school. The scene on the steps is the only scene Gevinson has been spotted filming so far with the younger cast members, so her character might remain the biggest mystery of all.