Grace Coddington Looks Back: "I've Been in the Right Place at the Right Time."
In conversation with the visionary creative director at the book party toasting her latest leviathan coffee table book.
---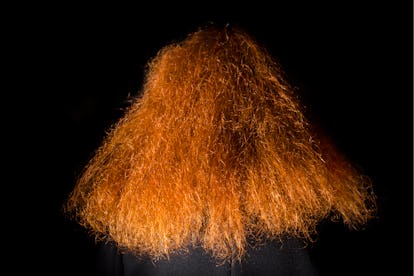 Landon Nordeman
On a languid Monday night in Manhattan, Grace Coddington was wedged into a corner of the Madison Avenue Calvin Klein store as scores of people dressed in monochromatic separates lined up obediently to pay their respects. A subdued photographer wearing a dark blue jean jacket interrupted his wall-slouch pose to mutter "I'm from Vogue Taiwan" into my left shoulder. Fluorescent stacks of Grace: The American Vogue Years (Phaidon), her newest economically titled behemoth of a book, loomed behind its author as she scrawled signature after signature and posed for well-lit photographs.
Eight months ago, Coddington said she'd be stepping down from her role as creative director of American Vogue, a post she'd held to much acclaim since 1988. An in-demand London model until a car accident severed one of her eyelids, Coddington was appointed to British Vogue in 1968. The oddly symmetrical rhythms of her singular career have not escaped her attention.
"I somehow feel as though I've been in the right place at the right time at the right year, from living through the 60's as a model to coming to America at exactly that point where all the eyes were looking at America. Well, for fashion anyway," she said, perched behind a nondescript blonde wood desk. "I felt very much that where it was happening was New York, so I was keen to get here and when given the opportunity I jumped at it. And things were just changing at British Vogue. Anna Wintour came to British Vogue and I worked with her for a year and a half, and then I left because I thought that kind of opportunity wouldn't come again. Also, my boyfriend lived here, so I wanted an excuse to come to America and that was a pretty good one."
Who was the boyfriend? "The same one I have now. He's called Didier Malige and he does hair on shoots."
As exquisitely beautiful as she is and has always been, Coddington's appearance is not what one might call conventional. She tends to dress in black and navy blue, sometimes accessorizing with a loose-fitting watch or a simple chain. Her billowing red hair is her most recognizable feature, and it frames a watchful, owlish face that betrays little but for an eyebrow twitch or smirk. In conversation, she's blithe and witty, with a leisurely vocal pace and cadence one might expect from a woman used to having her conversations recorded and transcribed.
When discussing an editorial shoot inspired by the Todd Haynes film Safe, Coddington was surprised to hear that I'd detected an undercurrent of loneliness and alienation in much of her oeuvre.
"I think what I was trying to do in this book was make it feel more 'modern,' whatever that word is," she said. "That story I love because it was, for me, the beginning of when computers and digital and everything were starting to take over our lives. I was so fighting it and everybody was – well, it was kind of pre-Instagram almost. My inspiration for the story was that no one talks to each other anymore, and the fact that families are all sitting at breakfast and they're looking at their computers, or at their cell phone or whatever."
A friend of Coddington's who kept most of our conversation off the record told me that she doesn't email, though she will fire off the occasional text. When I asked why Coddington's Instagram account features mostly her drawings and little original photography, her friend's eyes bugged. Her hands leapt to her phone. "My god, you're right," the friend gasped, scrolling through photo after photo of Coddington's whimsical illustrations. "I've never seen her take a single picture in all the time I've known her."
Coddington's artistic collaborations with Steven Meisel, Patrick Demarchelier, and countless others are the stuff of fashion legend, but she's still resistant to the idea of calling the shots.
"I can't compete with those very good photographers, it's as simple as that. If I did photography I would get so – it would never be good enough for me, because I have in the back of my mind a David [Sims] or a Steven and I'd tear it up and throw it away. I should say that about drawing too, because I'm no Picasso or anything, but I don't treat it as that. It's simply something on Instagram and it's something I enjoy doing. That's why I like drawing."
As the sky outside Calvin Klein turned purple (Coddington is in the brand's fall campaign), flame haired model Natalie Westling, whom Coddington has taken to calling a granddaughter, started fidgeting with the sleeve of her sweater. "Grace is incredibly concise and positive of what she wants," she told me. "I've only shot with her a handful of times, but shoots have sometimes gone from 7 a.m. to noon. She pulls two looks for you, shoots you, and you're done." She was just one of the few models in the house – Karen Elson, Karolina Kurkova, Lindsey Wixson, Constance Jablonski, and Adwoa Aboah were also commanding the room.
A waiter passed us two flutes filled to the brim with champagne. I compliment Westling's Vans tattoo, and she tells me that eventually she wants to start her own skateboard line, but for now she's keeping a low profile, staying exclusive.
"Reclusive?" I said. "That's it," she nodded. Coddington would approve.
Grace Coddington's Most Stunning Fantasies Through The Years
Alas Piggott, American Vogue, 2016.

Phaidon
Peter Lindbergh, American Vogue, 2010.

Phaidon
Jamie Hawkesworth, American Vogue, 2016.

Phaidon
David Sims, American Vogue, 2008.

Phaidon
A portrait of Grace by Fabien Baron.

Phaidon
Grace Coddington's Most Stunning Fantasies Through The Years