Thousands of Women "Step Up" in Calling for Grammy Exec Neil Portnow to Step Down
In the words of yet another snubbed female musician, his organization of a task force to examine how to help women succeed in the industry seems to be too little, too late.
---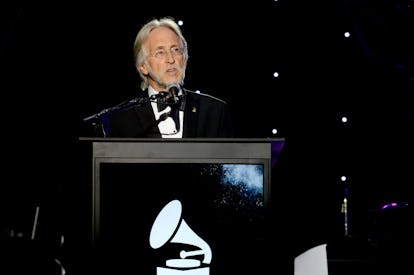 Michael Kovac/Getty Images
Regardless of the fact that we're in the midst of a post-Harvey Weinstein reckoning; regardless of the fact that many in the crowd were wearing white roses in support of the anti-harassment and pro-equality initiative Time's Up, which ended up being only mentioned once onstage; regardless of the fact that Lorde was not given the opportunity to perform while all of her fellow (all male) nominees were; and regardless of the fact that only a single woman took home a major award that night, sparking the hashtag #GrammysSoMale; the Recording Academy president Neil Portnow's comment in the midst of the 2018 Grammys that female artists and executives need to "step up" to "be a part of the industry on the executive level" were guaranteed to cause outrage.
And, of course, it dod. Celebrities quickly used their platforms to call out his comments comments; Pink, for example, handwrote a letter (complete with two different pens!), which Katy Perry shared with her 108 million followers:
Halsey, on the other hand, approached things with a wider lens:
And Kelly Clarkson's criticism adopted a playful tone, Charli XCX's most certainly did not.
At the same time, Vanessa Carlton seems to have taken it upon herself to, um, make it clear she'd walk a thousand miles to, "as a female artist and a member of the Academy … help in any way possible." So far, that's manifested in encouraging others to "step up"—in calling for a wider examination of the industry, given that, as was made clear in a "grim" report just before the show, only nine percent of the 899 people nominated in the last six Grammy Awards were women, as were only 12 percent of songwriters and two percent of producers behind the top Billboard songs from 2012 to 2017.
Hollywood's Biggest Names Pledge to Speak Their Minds:
More specifically, though, Carlton and others—like the nearly two dozen female record executives who wrote an open letter calling Portnow's comments "spectacularly wrong," detailing related statistics—are beginning by calling for Portnow to step down. Carlton in particular has done her part to spread a petition with the goal of gaining 10,000 signatures to show support for women trying to get into the music industry and to advocate Portnow's resignation. They've since upped its goal to 14,000, seeingas, as of Friday morning, more than 13,000 people have signed. (Its description also calls out Portnow's failure to address Lorde's reported lack of invitation to perform, as well as the importance of Kesha's return.)
Realizing his mistake, hopefully after getting a talking-to, Portnow—or at least his and the Grammys' PR team—attempted to make up for his comments by saying his words were "taken out of context," and calling for the industry to "recognize that women who dream of careers in music face barriers that men have never faced. We must actively work to eliminate these barriers and encourage women to live their dreams and express their passion and creativity through music." Realizing that that wasn't enough, either, late on Thursday night, he also made a statement that he "also now realize[s] that it's about more than just my words. Because those words, while not reflective of my beliefs, echo the real experience of too many women. I'd like to help make that right."
Women's March: See How Jennifer Lawrence, Adele, Cameron Diaz, and Other Celebs Protested All Across the Country
Sarah Sophie Flicker, Michaela Angela Davis, Janet Mock, Ilana Glazer and Abbi Jacobson marched together in Los Angeles.

Photo by @janetmock.
Julia Louis-Dreyfus reminds us all to register to vote while protesting at the Women's March.

Photo by @officialjld.
Julianne Moore marched in New York.

Photo by @juliannemoore.
Jenny Lewis at the Women's March in Downtown LA.

Photo by @jennydianelewis.
Mark Ruffalo marched with his family in New York.

Photo by @markruffalo.
Ashley Judd marched in solidarity with the Time's Up initiative in New York.

Photo by @ashley_judd.
Gina Rodriguez at the Women's March in Los Angeles.

Photo by @hereisgina.
Rose McGowan marched in Washington, D.C. on the anniversary of the Women's March.

Photo by @rosemcgowan.
Olivia Wilde gave a speech for over 700,000 protestors at the Women's March in Los Angeles.

Photo by @oliviawilde.
Jennifer Lawrence, Cameron Diaz and Adele at the Women's March.

Photo by @adele.
Kathy Najimy used her megaphone at the Women's March in New York.

Photo by @kathynajimy.
Krysten Ritter promoted girl power before heading out to the Women's March.

Photo by @therealkrystenritter.
Chloë Grace Moretz stepped away from the 2018 Sundance Film Festival to protest at the Respect Rally in Park City, Utah.

Photo by @chloegmoretz.
Ellen Page and Emma Portner brought their pup to protest with them at the Women's March in Los Angeles.

Photo by @redsquare7.
Amy Schumer and Amber Tamblyn at the Women's March in New York.

Photo by @amyschumer.
Cynthia Nixon at the Women's March in New York.

Photo by @cynthiaenixon.
Katie Holmes braved the crowded subway to march in New York.

Photo by @katieholmes212.
Alessandra Garcia Lorido in front of signs for the Women's March Alliance.

Photo by @alessandragl.
Sarah Ramos with a crew of friends at the Women's March in Los Angeles.

Photo by @saraheramos.
Willa Fitzgerald and Molly Bernard at the Women's March in New York.

Photo by @willafitz.
That, of course, means taking action, which is why the Recording Academy is "establishing an independent task force to review every aspect of what we do as an organization and identify where we can do more to overcome the explicit barriers and unconscious biases that impede female advancement in the music community," Portnow said. "We will also place ourselves under a microscope and tackle whatever truths are revealed."
Portnow concluded by pledging his and the Academy's commitment to take action, and promising to share more information about the steps they're taking in the weeks to come. Unfortunately for Portnow, though, in the words of JoJo—another woman whose legal battle with the industry kept her from success—those steps just might be too little, too late.
Related: How Did Kesha, a Victim, End Up Bearing the Weight of Making the Grammys Political?