Despite Grammys Win, Donald Glover Plans to Retire Childish Gambino
"I think endings are good because they force things to get better," the Grammy winner said after his win.
---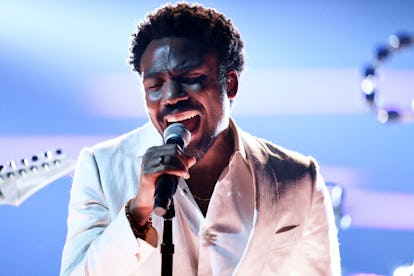 Kevin Winter/Getty Images
After taking home the Grammys award for Best Traditional R&B Performance for "Redbone," Donald Glover has officially announced he will make just one more project under the moniker Childish Gambino before putting this portion of his musical career to rest. In a post-Grammys press conference, Glover revealed his plans for the upcoming final Childish Gambino project, saying, "I'm really appreciative of this… I'm still making another project right now just to make, but I like endings and I think they're important to progress."
Childish Gambino's most recent album Awaken, My Love! was nominated for five Grammys this year and the single "Redbone" won one, and though this album was initially intended to be his final project under the name, the rapper just signed a record deal with RCA in January to release one more Childish Gambino musical project. "I think if a lot of things had, like, death clauses in them, we wouldn't have a lot of problems in the world to be honest," Glover said when asked about his plans to retire as Childish Gambino. "I think endings are good because they force things to get better," he went on.
In this case, Glover may be correct, as he has quite the busy slate for the next couple of years. The rapper and actor would have no time left in the day to appear in the upcoming Solo: A Star Wars Story as Lando Calrissian, nor would he have enough time to write, direct and star in Atlanta, or make his debut as Simba in Disney's live action remake of The Lion King. Sometimes, you just have to move a few things on your plate around, and Glover is the master when it comes to juggling multiple highly anticipated creative projects.
[#youtube: https://www.youtube.com/embed/agGa4wRid2A]
Related: Grammy Awards 2018: A Minute-By-Minute Report of Everything You Didn't See On TV
Millie Bobby Brown Does Her Best Karaoke Version of Bruno Mars