Gray Matters
Step aside, beige and brown. The neutral eye shade of the moment is gorgeous gray.
---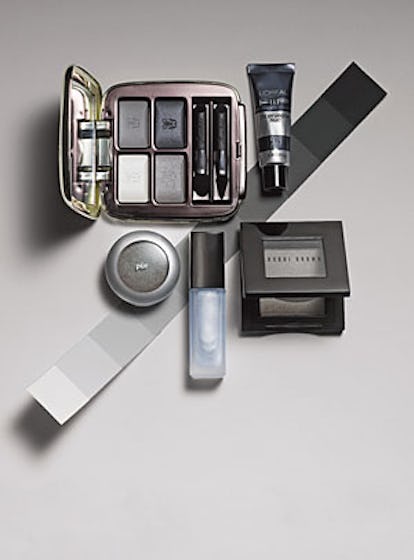 Mention of the word "gray" has always sparked associations with the dour and the dowdy: "gray skies," "gray mood," "gray hair." But these days, gray is downright chic and showing up everywhere: in Anne Kreamer's recent eye-opening book, Going Gray; in the current Jasper Johns exhibition, "Gray," at the Metropolitan Museum of Art; and where you'd least expect it—on the spring runways.
The color first appeared in fashion last fall, on everything from dresses and bags to fingernails. Now the stately shade is accenting eyes. "We're seeing a lot of gray, which is interesting, because we've always thought of it as a fall-winter color," says Chantecaille creative director Olivia Chantecaille, who recently made several once seasonal gray eye shadows part of the company's permanent collection due to rising demand. "It's replaced black in fashion and beige in makeup."
Even self-proclaimed "taupe girl" Bobbi Brown has embraced gray as part of her palette. "Before now, the only women who wore gray eye shadow were women with gray hair," says Brown, whose new grays were inspired by stones. "When you look at stones, some are brown, some are gray. We all fell in love with the gray ones. There's definitely a gray movement going on in beauty and fashion."
Variations on the shade are currently abundant, with gray eye shadows running from charcoal to sky. L'Oréal HiP Cream Shadow Paint in Steely is a dark pewter, Yves Saint Laurent Eye Colour Touch in Steel Blue is a medium slate, and Chanel Fluid Iridescent Eyeshadow in Glacier is light and silvery. For those unwilling to go all the way, Chantecaille Lasting Eye Shade in Sel and Bobbi Brown Shimmer Wash Eye Shadow in Rock have the tiniest hints of brown, while Pür Minerals Pressed Mineral Shadow in Burgundy Malachite mixes in a bit of wine. And for the undecided, Guerlain Ombre Éclat 4 Shades Eyeshadow in Perle d'Argent is a quad that spans the spectrum from palest to deepest gray.