NYFW Men's: Greg Lauren Gets High-Minded for Fall
"It's about the pain beneath the beauty, the struggle behind the facade," he says.
---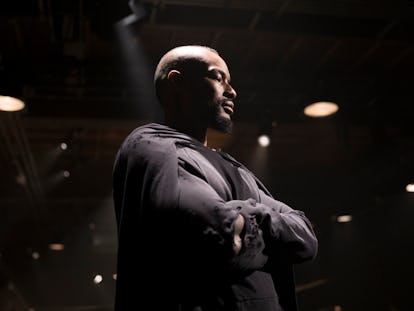 "I'm obsessed with trying to understand where the classic male archetypes fit in in the world," Greg Lauren said matter-of-factly at his New York Fashion Week: Men's presentation on Wednesday. It's an obsession that keeps on giving: Last season's men's runway show had a similar focus, and even his first-ever women's show was male-oriented. ("I was so excited about this idea that women are the new men," he told WWD at the time.)
His fall presentation was elaborate enough that Lauren's hopefully finally gotten to the bottom of it. "I really wanted to have people enter a world where they could really absorb everything from the set to the characters, and ultimately the clothing," he said, gesturing about to the surrounding groups of dandies, gangs, shoeshiners, boxers, and other rugged individuals scattered about the perimeters of Chelsea's sprawling ArtBeam gallery.
Meanwhile, models dripped sweat onto their drop-crotch leggings, sparring in the full-scale boxing ring that was the show's pièce de résistance – a symbol of how "we're living in a time where everybody's fighting for something," Lauren explained. He didn't need to spell out that the eye candy would also be good for Instagram likes.
The boxers – not to mention their chiseled, shirtless counterparts on the sidelines – were definitely eye-catching, but they were no heroes: that role went instead to Tyson Beckford, a solitary figure on his own spotlit podium. In a get-up that couldn't be further from what he wore decades earlier when he was making a name for himself with Lauren's uncle Ralph, the supermodel wore a distressed "hero hoodie," whose hood was replaced with a cape. "It's a combination of both the hoodie itself being elevated to an iconic, heroic status, and at the same time, it's about the heroes in today's world – who are they? Do they exist?" Lauren asked.
Meant to echo those questions was a 9-year-old model seated facing Beckford, his feet dangling off a metal can surrounded by piles of tires. "I love the idea of having one child surrounded by all these men, sort of wondering what might he grow up to be, who he should be," Lauren said. If that sounds familiar, it's another idea he's returned to: a 10-year-old girl opened his women's show, too.
The boy's boots may have resembled a knit pair of Uggs, but most of Lauren's materials are in fact centuries-old: "This fighter right here is making a pant made entirely of 18th-century French hemp from grain sacks and homespun linens," Lauren said. Others wore patchwork made of vintage cashmere sweaters, and tailored suits from more hand-dyed hemp. "It's not destroying stuff for destroying's sake: it's about the pain beneath the beauty, the struggle behind the facade."
NYFW Men's: Backstage at Greg Lauren Fall 2016
NYFW Men's: Backstage at Greg Lauren Fall 2016
NYFW Men's: Backstage at Greg Lauren Fall 2016
NYFW Men's: Backstage at Greg Lauren Fall 2016
NYFW Men's: Backstage at Greg Lauren Fall 2016
NYFW Men's: Backstage at Greg Lauren Fall 2016
NYFW Men's: Backstage at Greg Lauren Fall 2016
NYFW Men's: Backstage at Greg Lauren Fall 2016
NYFW Men's: Backstage at Greg Lauren Fall 2016
NYFW Men's: Backstage at Greg Lauren Fall 2016
NYFW Men's: Backstage at Greg Lauren Fall 2016
NYFW Men's: Backstage at Greg Lauren Fall 2016
NYFW Men's: Backstage at Greg Lauren Fall 2016
NYFW Men's: Backstage at Greg Lauren Fall 2016
NYFW Men's: Backstage at Greg Lauren Fall 2016
NYFW Men's: Backstage at Greg Lauren Fall 2016
NYFW Men's: Backstage at Greg Lauren Fall 2016
NYFW Men's: Backstage at Greg Lauren Fall 2016
NYFW Men's: Backstage at Greg Lauren Fall 2016
NYFW Men's: Backstage at Greg Lauren Fall 2016
NYFW Men's: Backstage at Greg Lauren Fall 2016
NYFW Men's: Backstage at Greg Lauren Fall 2016
NYFW Men's: Backstage at Greg Lauren Fall 2016