Hot Hybrid: Greige
Gray and beige converge to create this spring's chicest shade.
---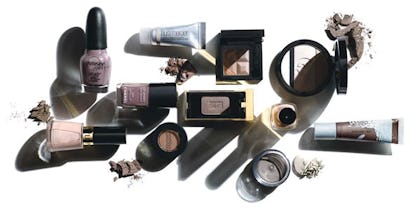 Backstage at the Marc Jacobs fall 2010 show, manicurist Elisa Ferri cradled in her hands what appeared to be a batch of stones. In fact, they were five shades of nail polish that maker CND had hand-mixed for Jacobs. "When the girls tried the outfits on, he put the little nail swatches up against their clothes," she said. "There's camel, mushroom, greige…."
It may sound newfangled, but the term "greige" has been used by decorators for years, and now the gray-beige hybrid is exploding in the beauty realm. The color, in its various incarnations and nomenclatures (stone, cement, clay), was ubiquitous on the fall runways: It surfaced on eyes at Thakoon, Rodarte, Michael Kors, Fendi and Giorgio Armani, and on nails at Alexander Wang, Vera Wang and Jason Wu. A version of the shade—Rose Dust—appears on Pantone's ranking of the 10 most popular fashion colors for fall 2010.
Why the sudden greige fever? Priti Nails founder Kim D'Amato, who painted greige on fingernails at Tommy Hilfiger, Carlos Miele and Devi Kroell, thinks it complements a season of clothing that emphasized womanly curves. "With the comeback of the more shapely female, something about [the color] says 'femme fatale,'" D'Amato says.
Of course, applied too liberally, greige can become a little too fatale. When makeup artist James Kaliardos painted the hue all around the eyes and skipped the mascara at Rodarte, his goal was to make the models look like sculpture. "It's a stone face," says Kaliardos. He wasn't kidding—a woman made up like that on the street might seem in need of a blood pressure check.
According to Tim Quinn, director of creative artistry at Giorgio Armani Beauty, "The shade works well in spring because we tend to put more pinks and raspberries on our cheeks and lips. And you have to play up the lash line with liner and mascara to create a separation between the eye and the eyelid when you wear greige." Otherwise, he warns, "you can end up looking like a cadaver."