Model Greta Varlese Is Addicted to Moroccanoil
Italian model Greta Varlese swears by banana and peanut butter smoothies, cardio and yoga, and a healthy dose of Morocconoil hair treatment. Read more of her beauty secrets, here.
---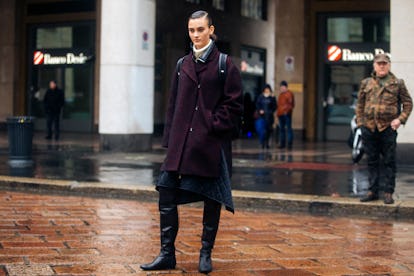 Getty Images
Hair treatments might not be the among the most commonly mentioned routines in our recurring Beauty Notes feature, but for Italian model Greta Varlese, they are essential. She happens to swear by Moroccanoil to combat dryness, but serious hair care isn't her only beauty secret. Learn what Greta Varlese, who appears in the "Cult Classics" story in W's August issue, keeps in her medicine cabinet, drinks for breakfast, and does to stay fit, here.
Medicine cabinet snapshot: I use a daily nourishing moisturizer when I wake up and when I go to bed. Once a week, I do a proper face cleanse: scrub, mask and intense moisturizing… I have a really dry skin.
A good hair day starts with: I'm addicted to Moroccanoil's treatment. You can put it in your hair at anytime. I'll use it when my hair feels especially dry.
Makeup miracles: Laura Mercier Secret Camouflage (I have really deep eye bags and it's amazing for that!) and Nars Copacabana highlighter from NARS are my favorites. I also can't go without mascara.
Nails must be: I love them natural, any shade is fine for me. Shiny or matte doesn't make a difference. I also like a really nice matte black, sometimes.
Sheet mask or mud mask: Doesn't really matter as long as they are exfoliating masks. I like the Sephora ones the most.
Bronze or blush: Nars highlighter! So natural and perfect at day and at night. 😉
Beauty from the inside out: With a diet based on protein you can't go wrong, but that doesn't mean that I don't cheat (lol).
Exercise obsession: Mostly cardio-based exercises, but I enjoy yoga as well.
Drink of choice: Peanut butter and banana smoothie.
Product that you borrow from the boys: Oversized sweaters.
A woman should smell like: Narciso Poudrée or Coco Mademoiselle.