Griffin Dunne on Mixing Art With Life in I Love Dick and in His Documentary About His Aunt, Joan Didion
A walk in the dog park with the star of Jill Soloway's new show on Amazon, based on Chris Kraus's book.
---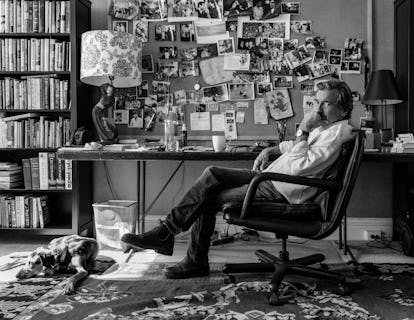 Visual Editor: Biel Parklee.
When the actor Griffin Dunne got cast in his latest project, based on a 1997 cult book he'd never heard of before, he wasn't sure how to tell his daughter Hannah, who is also an actress, about it: "I didn't want to leap in and say, 'Hey, I got a job on something called I Love Dick.'" Perched on a bench at Tompkins Square Park in New York's East Village, where he takes his dog Mary most days, Dunne recalled explaining the project to her, about a woman named Chris who writes letters with her husband to another man. "I got about five sentences into it and she's like, 'This is I Love Dick! You're playing Sylvère! Oh my god!' And I said, 'How do you know this book?'"
While Chris Kraus's early work of auto-fiction is a staple of Gen Y, the book skipped a generation somewhat, in terms of its resonance. Jill Soloway, the creator of Transparent, and playwright Sarah Gubbins discovered it only recently, and developed it into an Amazon Original series, which premieres this Friday. Dunne plays Kraus's husband, Sylvère Lotringer—the real-life critic and theorist—who follows along on his wife's (Kathryn Hahn) chase after the enigmatic Dick (Kevin Bacon), her new artistic outlet.
The lives of iconic literary women is fast becoming well-trod territory for Dunne, who will also release a documentary this year about his aunt, Joan Didion.
"How did I get here?" Dunne joked, as huskies, bulldogs, and the odd burly pug chased one another across the park, kicking up dirt by our bench.
On I Love Dick, Kraus's chase explodes into a mess of art and intrigue over the course of eight episodes, as what starts as a private fantasy between her and her husband entangles the artists, academics, and cowboys of the strange, remote desert town of Marfa, Texas. With references to Kathy Acker and Chantal Ackerman, a contemporary artist residency setting at a fictional institute, and the work of real-life artists woven into the fabric of the show, I Love Dick wears its interests unabashedly. It's not a "smart TV show"; it's a TV show about being an intellectual. In that way, it's not like much else on TV.
Dunne seems an obvious choice for such a project. The son of the late producer and writer Dominick Dunne, and nephew of John Dunne and Joan Didion, he grew up surrounded by artists, musicians, and literati in Los Angeles. His first short film in 1990s could be called auto-fiction too, based on the first party he went to at his aunt and uncle's house when he was 12 for the release of Tom Wolfe's The Electric Kool-Aid Acid Test. At what he describes as a "rotting palazzo" on Franklin Avenue, he mingled with Janis Joplin and Otto Preminger, who while tripping on acid begged the adolescent Dunne not to let go of him.
The line between life and art, in that sense, blurred for Dunne with this project, too. "I have friends who are friends with Sylvère," he said. "It got back to me that he really loves it." Then he recounted receiving a text from an unknown number about the show, which said: "It's Theroux!". He was genuinely confused whether it could be Justin or Paul.
For an older generation, Dunne's brand of quirky cool is associated with 1980s films like After Hours and An American Werewolf in London, but he's just as well known to a younger audience for his work on cultish T.V. hits, from Girls to House of Lies to Damages. I Love Dick is part of the the new era of peak television, which he described as "kind of the way you'd try to sell movies in the '70s—it had to be really fresh, an auteur, unique tone. The two mediums have switched places."
Six years ago, Dunne began working on a documentary about Didion, which he has almost finished, and also plans to put on a streaming platform like Amazon.
"I've never had such a high-stress screening," Dunne said of showing his infamously private aunt the film for the first time recently. After a successful Kickstarter campaign about two years ago, he took the production to the next level, with archival footage and interviews with figures such as Hilton Als, David Hare, and the late New York Review of Books editor Robert Silvers in various settings around New York, from the Jane Ballroom to the Paris Review offices. He described the film about Didion as "patching her life together through collage," he said. "She's sort of the last person from that generation."
"Look at this cute little f—er," Dunne said as a sturdy-looking pitbull mix approached midway through our interview. "I was just talking about you!" he said as it came closer. Not much later, it jumped on top of me. Caked in mud, I wondered aloud if this unshy stranger was a boy or a girl dog.
"I think it's a girl," Dunne said, a smile on his face. "Only a girl would do that."
See what's trending in W video: