Grimes: The Bright Future of Electropop
With her intermittently bleached baby bangs, saucer-sized eyes, and tendency to curse, Montreal-based musician Claire Boucher (above) looks and acts like a comic book nerd's dream girl. She makes and distributes her songs under the...
---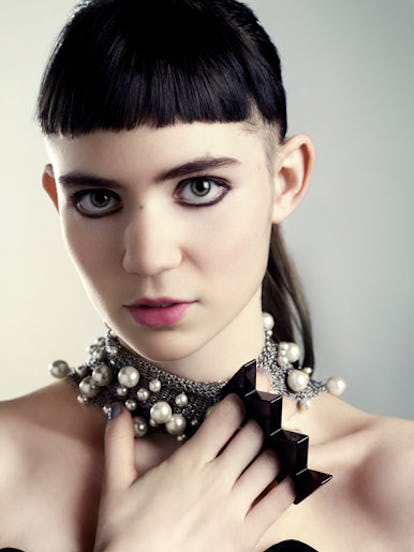 Grimes has already released two LPs, but Visions, out later this month on British label 4AD, is her real premier. From an extended sojourn at her mom's house in Vancouver, the 23-year-old electropopist talks about the weirdness of Miami, ego-oriented aesthetics, and the moment she realized she could make music herself.
You're about to go on tour. Is there anywhere in particular you're excited about playing? Miami is just really fun whenever I go there. It's like this post-apocalyptic Barbie world: everything is pink, and there're palm trees everywhere. But then there are also all these people in crazy sunglasses, warehouses with sick parties where all the girls are covered in spikes and black leather. It's a very weird place.
Do you feel like you're part of a movement that's specific to Montreal, or has the Internet dislocated you in that anyone can listen to your music anytime, anywhere? I feel like there are two scenes. There's definitely a really strong Montreal scene— everyone I know pretty much lives on the same block. But then I feel really akin to some kind of Internet movement. There are a lot of musicians I've met on Twitter where it was like, Hey, I like your music—and then I ended up meeting them and it turned into a friendship.
You also draw and paint. I paint a lot and am getting interested in working with video and film. Grimes is just the label I put on everything I do. Right now that's manifesting in music videos, which is great because it doesn't requite a script. The kind of music I like is really aesthetic and ego- and brand-oriented—the Beyonces and Mariah Careys. When I think about what I find magnetic in entertainment and performance, well, I like the whole thing. I like to aestheticize every possible thing that can be aestheticized.
If you fuck up on stage, don't freak out about it. Just stay chill and pretend it didn't happen. I've come to realize that so much about this job doesn't have to do with skill, but about the way you perceive yourself and the way in which you make other people perceive you. If you tell someone you're doing something innovative, they'll think you're doing something innovative. If you tell someone you're playing a flawless show, they'll think you're playing a flawless show.
You started making music about three years ago. How did that happen? Just one day you… That's the really weird thing! I was always hugely obsessed with music, but I always figured I didn't know how to make it. Then someone showed me how to use Garage Band—that you can just make loops, the same sound over and over again, and build a song off that. When that realization struck me, I just suddenly knew how to make music. It's like long division, and you're in Grade 4, and you're like, What's going on? Then at some point, you just get it. When you think about it, it's just a chorus and verse—you just copy and paste it all together.
Do you have costumes for your shows? Totally depends. If I'm in Phoenix, and I just drove 10 hours, I'm defiantly wearing shorts and a t-shirt. If I'm feeling really shitty, I have a gold sweatsuit I can wear. It's kind of like pajamas, but it's shiny, so it's acceptable.
Grimes's List of "Unbearably Beautiful Songs": Here in Heaven Part 3 (How to Dress Well, Elite Gymnastics cover) Trust in Me (Etta James) We Belong Together (Mariah Carey) I Say a Little Prayer (Aretha Franklin) Fingerbib (Aphex Twin) This Woman's Work (Maxwell) Land Upon Mud II (Big Blood) Native Speaker (Braids)
"Vanessa" by Grimes
Photographs by Matthew Barela; styling by Laurel St. Romain and Daniel Randell.