Daddy's Little Helpers
Thanks in part to surrogacy coordinators Growing Generations, gay Hollywood is in the midst of a baby boom.
---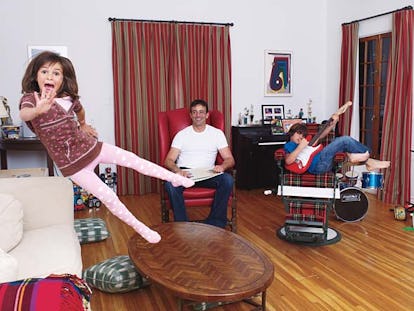 When Simon Halls went to his two-year-old son's first music assembly at preschool this past fall, he was hardly the only single dad in the audience beaming with joy. He may well, however, have been the only single gay dad who was expecting twins in the spring. Still, says Halls, who represents such stars as Jude Law as the co-CEO of PMK/HBH public relations, "In L.A., it's not that big of a deal." The parents of his son's classmates, he says, don't even blink when they hear that he's having his second and third children with the help of a surrogate, just as he had his first. "They just see me and my son showing up at assembly, living our very normal lives," he says.
The agency that connected Halls with his surrogates and fertility specialists is called Growing Generations. Based in L.A. with offices in New York, Boston and West Virginia, it was founded in 1996 to provide assisted reproductive services for the gay community. Thanks in large part to their work, the conversations within certain circles of influential gay men in Hollywood are now more often about nannies and sleep training than box office numbers. And the social scene has evolved in kind.
"I'm a total soccer mom," says Lane Janger, a Growing Generations client who is an independent film producer and a single father of seven-year-old twins, son Javin and daughter Flynn. Like many parents, Janger has his children's artwork hanging on the wall, their sports trophies lined up on the piano, and their board games piled in a corner—most of them missing pieces. "I can keep track of them for about three days once the box is open," he says with a sigh, as the twins play on the floor. It's just another night at the Janger household. "I don't go out in the same way that I used to, but I haven't eliminated the gay social part of my life," Janger says. "A lot of the times, I bring my kids with me. We go to barbecues. I've taken them to Outfest pool parties."
Will Halm and Gail Taylor, the cofounders of Growing Generations, met more than 10 years ago at a gay pride festival. Taylor, a coordinator at a surrogacy agency, was becoming increasingly frustrated by how closed off agencies and doctors in her field were to gay singles and couples. "The surrogacy community was saying, 'We don't serve gay people,'" says Taylor, who has two children with her partner of 16 years. She came up with the idea for a gay-friendly agency and set up a booth at the festival to promote the fledgling business. Halm was a lawyer who, along with his partner, had just welcomed a daughter delivered by surrogate. He'd struggled with a mountain of legal issues—from getting the names of two dads on a birth certificate to drawing up a legally valid contract for the surrogate—and recognized that most prospective parents wouldn't have the knowledge to do the same. "I didn't want to be a corporate lawyer anymore," he says. "I wanted to be a parent who helped a few people a year." Two years after their conversation at Taylor's booth, the two were working together.
Halm's path to parenthood is fairly typical of how things worked before Growing Generations existed. "We were looking at domestic and international adoptions, and in those days you had to be closeted. The home studies had to be doctored up to make you look like roommates," he recalls. "We didn't want to go through that kind of lying, so we started trying to find a surrogate." At the time, fertility doctors largely controlled access to egg donors and surrogates, and, Halm says, "a lot of doctors wouldn't touch us with a 10-foot pole because of AIDS, and psychologists were talking about children not having a 'mommy.'" So the couple took matters into their own hands, asking friends, people they met at dinner parties—"basically trying to inseminate any woman who would raise her hand," he says.
In hindsight, Halm realizes that they picked the worst possible candidates: women who hadn't already delivered children of their own, women in unstable financial situations, strangers about whom they knew nothing. Though eventually they delivered their daughter with the help of a friend, Halm is well aware that things could have turned out differently.
The goal with Growing Generations was to prevent such risky situations by connecting gay prospective parents with suitable surrogates and helping to navigate the relationship between the two parties. About two years after Taylor and Halm joined forces, psychologist Kim Bergman came on board to develop standard screening procedures for surrogacy and egg donor candidates. (Enlisting a third-party egg donor is now a common practice because it decreases the risk of the surrogate claiming maternal rights.) Bergman and her staff also provide support for surrogates and the intended parents. The agency's fourth partner, Stuart Miller, joined the group in 2001 in order to introduce Growing Generations and the concept of gay parenthood through surrogacy to the media. The birth of Halm's second child, a boy, was covered by 20/20 and The New York Times. Ten years later, the agency is still at the forefront of innovation in the field. And though most of its clients are gay, the group is working with more and more fertility-challenged straight couples. "We have clients who say, 'Please help our straight friends,'" says Taylor. "We're not going to discriminate on the basis of sexual orientation."
Growing Generations pairs surrogates with prospective parents on the basis of interviews and a 25-page questionnaire. Whereas at most other agencies prospective parents essentially do the choosing—they're presented with profiles of a number of surrogates and asked to pick among them—at Growing Generations the decision is more mutual, with introductions between the two parties set up by the agency. "We say, 'Here's the couple we think you'll fall in love with, and here's the surrogate you'll fall in love with,'" says Halm. "The system is usually very successful."
That was certainly the case for Nick Scandalios and Ric Swezey—a Manhattan theater producer and real-estate agent, respectively—and Vickye Ashton, the Fresno, California, surrogate who bore the couple's twins this past October. "I've met these people, and I see what great parents they're going to be," says Ashton, who delivered a set of twins for another gay couple a year and a half ago. "I thought, If they want a family, I can help." She also admits she got a bit of a thrill from raising eyebrows in her conservative community when she explained that the children growing inside her weren't hers, but the product of mixed sperm from two male partners and eggs from an anonymous donor.
In 2003, after years of relying on outside egg banks to source such donors, Growing Generations founded its own egg donor agency, Fertility Futures. Prospective parents can peruse a database offering videos of the donors, along with information like IQ scores, school transcripts and medical history. "We're the only agency to have streaming video," says Taylor. "You get a sense of character and carriage to be sure this is someone you're comfortable with being a genetic contributor of your child." (There's also a sperm bank in development, though the partners aren't yet ready to discuss details.)
Taylor insists that people rarely choose supermodel Stanford grads for those traits alone. "I wanted someone who looked like my sisters so my child feels like he looks like the rest of my family," says Halls. "And I'm not that artistic or musical, so I chose someone who is an artist and has a great musical background. Everybody that I know has had similar criteria."
Halls believes that the psychological support the organization offers is a major factor in their thousands of success stories, even though it can sometimes take parents several attempts to achieve that success. When his surrogate miscarried at 17 weeks, says Halls, "I went through a terrible time, and the Growing Generations folks were extraordinarily supportive."
Halls has referred dozens of friends and associates to the program, as has Manhattan-based society decorator James Huniford, a single father of a two-year-old son. Huniford says he's recommended Growing Generations to more people than he can remember. "I probably know at least 50 people going through the process," he says.
If the Growing Generations client list feels like a social register for the gay community, it has less to do with surrogacy being fashionable than with the finances required. Clients, as at other agencies, can expect to spend between $100,000 and $150,000: a $20,000 fee to the agency, about $7,500 for screening, $31,050 for surrogate compensation and expenses, $16,750 for egg donor compensation and expenses, $25,500 in medical costs, $2,750 in psychological support fees, $7,150 in legal fees and $24,995 in insurance. If an in-vitro fertilization fails or a miscarriage occurs, expenses can go up, but, says Stuart Miller, "we work with clients to try to keep it as minimal as possible. The professionals we work with will either discount, reduce or waive fees altogether, as do we."
It's a path not for the faint of heart. "People who are having babies this way, we've jumped through I can't tell you how many hoops, so it's not just like, 'It'll be fun to be a parent,'" says Halls. "We are very committed."
Which also means being committed to the lifestyle changes that often come with parenthood. "I get invited to moms' night out at school," says Janger. "I've got a bunch of moms coming out with me tonight to a gay bar for my birthday. But I won't get a minivan. I cannot be a single gay man with a minivan."