Directors' Guild
At museums across the country, there's been a changing of the guard. A new generation of directors is rethinking how to keep the contemporary art museum contemporary. Madeleine Grynsztejn at Chicago's Museum of Contemporary Art and Olga Viso at the Walker Art Center are leading the way.
---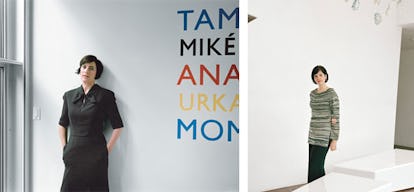 Madeleine Grynsztejn
When Madeleine Grynsztejn moved from Caracas, Venezuela, to London with her family at age 11, she spoke only Spanish and Dutch and harbored a passion for art that went largely unnurtured by her family. At Tulane University in New Orleans, she tried painting and quickly concluded that she had no talent for it. Then she took an art history class, and it all clicked.
"The minute those lights went out and the slides went up, I was done [for]," says Grynsztejn, 46, who was recently named director of Chicago's Museum of Contemporary Art and, as a longtime curator, has spent her career acting as translator between artists and audiences. "I know what it's like to be left out of language. Art is a language you have to learn. Art opens up a conversation."
If Grynsztejn has her way, the MCA will be starting plenty of conversations. "I want to make it one of the authoritative voices in the field," she says with a new­comer's zeal in her gleaming white, window-lined office. Gryn­sztejn is immaculately turned out in a slim Paul Stuart suit, crisp royal blue shirt and smart black frames. Though she's been in the top post for only three months the day we meet, she admits she's already preoccupied with "inventing a 21st-century model" for the contemporary art museum.
She hopes to invite artists "to do more than simply give us something to install in the galleries," but to help the museum rethink what it does. "I'm seeing artists using the museum as their subject, artists getting involved in areas that were once the role of the educator or curator." To create more "convergence" among the MCA's departments, she wants artists to participate more "in its back-of-the-house operations," she says.
To that end she regularly consults artist friends like Olafur Eliasson, whom she met in 1997 while scouting talent for the 1999 Carnegie International. In Eliasson's view, Grynsztejn brings a fresh mind-set to running a museum, though her ideas for the MCA are only in the planning stages. "When people step into the museum, they don't want to step out of the city; they want to get closer to it," Eliasson says. "What's fantastic about Madeleine is that she's not polarizing herself into an against-all-the-others museum. Her approach is more unpredictable and liberating for art." ("Take Your Time: Olafur Eliasson" arrives at the MCA next spring.)
As a curator at the Art Institute of Chicago, the Carnegie Museum of Art and most recently at the San Francisco Museum of Modern Art, Grynsztejn displayed wide-ranging tastes. At SFMOMA she mounted a major exhibition on Richard Tuttle and then one on Eliasson. "You'd be hard-pressed to imagine two more different artists, and yet Madeleine is passionate about both of them," says SFMOMA director Neal Benezra. "It's so important for a museum director not to be too monochromatic. She has a capacity for peripheral vision."
She was drawn to Tuttle in part, she says, after being "dumbstruck" on seeing his 1967 work Tenth Cloth Octagonal, made of pink fabric, in 1994. "I felt it was important, and I didn't know why," she recalls, noting that it takes roughly a generation for consensus to be reached about a particular artist's place in history. Of course, interest in art of the here and now has spiraled out of control, as has its price, making it increasingly difficult for museums to build their collections. Once museums played a key role in lending their imprimatur to an artist's reputation, but nowadays the path from studio to auction block is neither long nor winding. Grynsztejn believes the MCA can compete by supporting projects that lie on the periphery of the market—due to either scale or message—by commissioning new work and most vitally, she says, "by protecting artists during experimental periods when they want to change or step outside the predictable language."
"We make citizens, and the market makes consumers," Grynsztejn explains. "The collector thinks, Is this a good investment? We think, Is this a good idea?"
Olga Viso
When Olga Viso came of age as a curator in the early Nineties, during the heyday of identity politics in the art world, the Florida-born daughter of Cuban émigrés considered herself a Latina curator, not a curator of Latin-American art. But others assumed they were one and the same. "Just anything Latin came my way," she recalls of her early stints at the High Museum in Atlanta and the Norton Museum in West Palm Beach. She disliked being typecast, and it bothered her when artists who didn't share the same culture or language were lumped together as if they did. "To me it was much more subversive to integrate those artists' voices into the larger international landscape," Viso says.
Now a much admired expert on Latin-American art and a rising star among museum directors, Viso, 42, heads the Walker Art Center in Minneapolis, one of the country's most adventurous hubs for contemporary work. Striking in a lacy black skirt and gray silk cowl-neck sweater, her wide brown eyes set off by her jet black hair, she admits to a weakness for the underdog and a blind spot for cultural borders. "I've always been interested in artists who've been under-recognized and misunderstood," she says.
One thing Viso herself has rarely misunderstood, however, is how to make an impact. At the Hirshhorn Museum in Washington, D.C., she rose swiftly through the ranks after joining as an assistant curator in 1995. Viso became director 10 years later, favoring challenging shows over crowd-pleasers. "She has a great large vision about things," says Benezra, of SFMOMA, who hired Viso at the Hirshhorn when he was its chief curator. The pair worked together on the 1999 show "Regarding Beauty," "which at that time," recalls Benezra, "was a four-letter word in the art world." A landmark retrospective in 2004 of the Cuban-American conceptual artist Ana Mendieta, until then best known for having fallen (or having been pushed by her husband, artist Carl Andre) to her death, included images of Mendieta dragging her bloodied hands down a wall and a rape scene.
Growing up, Viso had hoped to become an artist. She attended art school for painting and graphic design but decided to become a curator after interning at the High Museum while studying for a graduate degree in art history at Emory. Living artists, she says, are her raison d'être. Guillermo Kuitca recalls watching her rearrange photocopied images of his works as they prepared an initial draft of his survey, which will tour the U.S. in 2009. "You couldn't predict the choices she'd make," he says. "There was a kind of combustion in the way she organized them."
The days are long gone when museum directors had time to curate shows, and Viso concedes that the skill set now required for the job includes "CEO, Ph.D., magician and celebrity." What drew her to the Walker, she says, was its international focus on the visual arts, performing arts and film. Viso wants to see greater cross-pollination among its different departments. To artists, the walls of a museum and the traditional divisions among painting, sculpture and other media just aren't that important anymore. "We have to be as forward thinking as the artists we present," says Viso, citing a plan to "break down the silos between departments" by reinstalling the permanent collection to better showcase the Walker's history of collaborations between artists, choreographers, composers and filmmakers. "Not just multidisciplinary, but interdisciplinary so that we see the connections from the start of a project, not after it's created."
In that same spirit, Viso is taking on the role of reformer, intending to rally her peers to establish ground rules for navigating the complex "ethical issues," as she calls them, that have arisen from the exploding contemporary art market. Chief among them are the museum community's somewhat symbiotic relationships with dealers and collectors, especially when dealers help underwrite exhibitions of artists they represent, and the growing reliance on joint purchases with collectors, necessitated by the skyrocketing cost of art. "The field needs to change the way it operates," she says. "It takes a generational shift to achieve it."