Is Gucci Casting Space Aliens As Its Next Super Models?
Gucci and Alessandro Michele go out of this world to cast space aliens in an Instagram campaign that seems sure to go viral.
---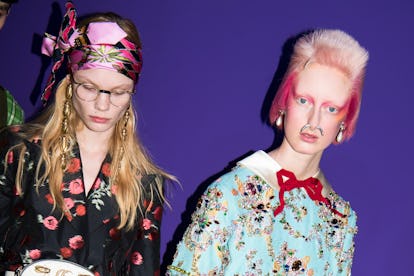 Photo by Jason Lloyd-Evans
If Gucci under Tom Ford will be remembered for pushing fashion advertising to its most scandalously sexy, Gucci under Alessandro Michele might be remembered for embracing internet weirdness in its campaigns. Fresh off commissioning meme artists to help promote a line of watches, Gucci has now created some fashionable weirdness of its own by posting a series of what can only be described as alien screen tests to its Instagram page.
It's part fashion's latest obsession with literally out-of-this-world space influences, part Adult Swim-style bizarreness, part those odd clips of amateur actors auditioning for a commercial that have been a low-key but surprisingly long-living meme on the internet for a while. You know, the ones from which we got the phrase, "Honey, you've got a big storm coming."
The four Instagram clips posted so far feature models posing as actors from all reaches of the galaxy auditioning for some epic film (or maybe it's a spacey soap opera, we're not sure). Naturally, they're all wearing Gucci's apocalyptical Fall/Winter 2017 collection.
First, we meet a glittery-eyed alien who informs us, "You can't just walk in here, you know. We're a peaceful people."
Then we meet Kerelanda Encanta, who dramaticizes all the well-known problems of Kivordian time portals (we all know #TFW every atom in our body is dispersed throughout the sector).
Here's Xeod, whose age is listed as 7000, but doesn't look a day over 5750 (what is his skin routine?)
Finally, we go back to Earth with Zenoba, a 20-year-old scanner operator of our own species.
Every video is tagged #GucciAndBeyond, but there's no indication of what any of this could mean. Could this be a one-off experimentation in viral marketing? A preview of the next ad campaign? Perhaps a sign of a standalone fashion film to come?
Whatever the case is, the clips dropped on the same morning that creative director Alessandro Michele was named when of the 100 most influential people in the world by Time magazine. In the accompanying essay, Gucci muse Jared Leto describes Michele's debut at the house in near science fiction terms.
"A bright light burned its way across the Italian sky, fusing together the past, the present and the future, and releasing upon the earth a new and exciting voice that would change fashion forever," he wrote. "On this magical evening, an unassuming young artist made a statement so strong that it set the sartorial world afire and ushered in a new renaissance for the infamous House of Gucci."
Gucci truly is out of this world.
Related: Chanel's Rocket, Donald Trump and Fashion's Obsession with Space: An Illustrated Guide to Fall 2017
Designers Talk to W:
Gucci's Fall 2017 Collection Will Be the Only Good Thing Left After the Apocalypse
Photo by Jason Lloyd-Evans
Photo by Jason Lloyd-Evans
Photo by Jason Lloyd-Evans
Photo by Jason Lloyd-Evans
Photo by Jason Lloyd-Evans
Photo by Jason Lloyd-Evans
Photo by Jason Lloyd-Evans
Photo by Jason Lloyd-Evans
Photo by Jason Lloyd-Evans
Photo by Jason Lloyd-Evans
Photo by Jason Lloyd-Evans
Photo by Jason Lloyd-Evans
Photo by Jason Lloyd-Evans
Photo by Jason Lloyd-Evans
Photo by Jason Lloyd-Evans
Photo by Jason Lloyd-Evans
Photo by Jason Lloyd-Evans
Photo by Jason Lloyd-Evans
Photo by Jason Lloyd-Evans
Photo by Jason Lloyd-Evans
Photo by Jason Lloyd-Evans
Photo by Jason Lloyd-Evans
Photo by Jason Lloyd-Evans
Photo by Jason Lloyd-Evans
Photo by Jason Lloyd-Evans
Photo by Jason Lloyd-Evans
Photo by Jason Lloyd-Evans
Photo by Jason Lloyd-Evans
Photo by Jason Lloyd-Evans
Photo by Jason Lloyd-Evans