Gucci In the Garden: Dakota Johnson, Lana del Rey, and More Trek to Queens For Alessandro Michele
The fashion set migrated from Manhattan to Queens on Monday night to celebrate Alessandro Michele's first fragrance.
---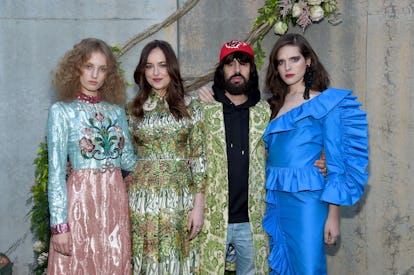 Jamie McCarthy
At the stroke of 8pm on Tuesday night a rather chic crowd exited the Court Square subway stop. They were on their way to a Gucci party toasting creative director Alessandro Michele on Bloom, his first fragrance for the house.
Yes, you read that right. Court Square, in Long Island City. As in Queens.
It was a travel commitment for the fashion set who tend to stick to Manhattan, with perhaps the occasional outing to Brooklyn, but Gucci made it worth the while, creating a lush environment in the courtyard of MoMA's PS 1 on Jackson Avenue. "This was all gravel before," a publicist said of the now grassy ground. Apparently the entire space took four 12-hour days to install. 100,000 blooms were brought in, and 300 plants. As was 60 bales of bamboo. There was a gazebo and a veritable menagerie installed with exotic birds squawking in rattan cages.
The guests provided quite the visual feast as well; there were more Gucci frocks at the garden party than Comme des Garçons at the Met Gala. Amongst the cool kids sprawled out over the lawn were Miles McMillan, Cleo Wade, Lana Del Rey, RJ King, Eric Buterbaugh, and Chloe Wise, and the three faces of the campaign: Petra Collins, Hari Nef, and Dakota Johnson. Of course, Michele was also there, dressed in his own brand of phenomenal quirk. He even wore, quite curiously, a bright red trucker hat, which could be considered vintage if you count Ashton Kutcher a touchstone of early aughts fashion.
The 11 Best Gucci Stans to Follow on Social Media
The servers were dressed more conservatively, though equally chic. "I'm pretty sure we have to return them at the end of the night," one said, naturally disappointed, of the Gucci loafers he was provided for the event. Laura Love was in Gucci as well, in a sort of Ra-Ra cheerleader look. "I know, I feel very school spirit-y," she giggled. Her footwear from the night before could have completed the look, she noted. "I wore Adidas [to the Met Ball], well not on the red carpet. I can't take full cool girl credit. I slipped them on just after the staircase."
Moments later, Soko took to the makeshift stage to introduce Goldfrapp, a British band largely unknown in the United States. "You've probably danced a lot to their music," she purred into the microphone. "You've probably had a lot of sex to their music and you can do any of those right now while they perform."
Related: Petra Collins Dreams of Sleeping in a Room That Is One Giant Bed, With Rihanna If Possible