Get Gucci Delivered to Your Door in 90 Minutes
Get new threads in 90 minutes or less.
---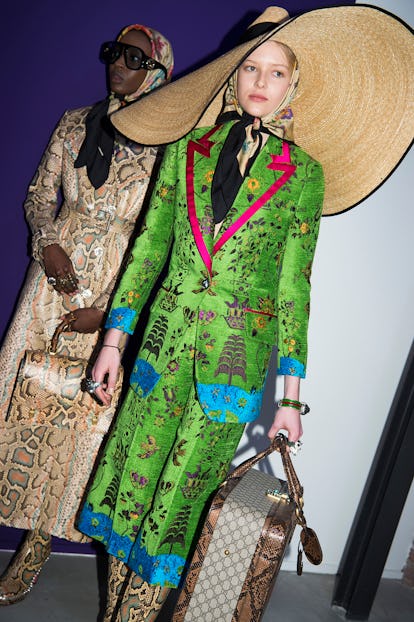 If you're a fan of online shopping, you're probably familiar with the agonizing couple of days where you wait for your order to actually arrive. Gucci and online shopping platform Farfetch are on track to change that with a new service that promises to deliver your designer duds within just 90 minutes. The feature, called F90, or Store to Door in 90 Minutes, will launch in London, Paris, Madrid, Milan, New York City, Los Angeles, Miami, Dubai, Tokyo, and São Paulo.
Here's how it works: After placing your order via Farfetch's website, a sales associate at your local Gucci store will organize your Alessandro Michele-designed goodies. Then, a courier will make a beeline to your apartment (or anywhere you happen to be experiencing a fashion emergency) to deliver your package. Trying to order a package in New York City will set you back about $20 in a delivery fee, though the cost varies from city to city.
"This service represents the type of new service level that the luxury fashion industry needs to embrace in order to meet the ever-increasing expectation among luxury customers today," said Marco Bizzari, Gucci president and chief executive, in a press release sent to W. "Time is the new luxury and one that we all want more of," said José Neves, chief executive and founder of Farfetch.
Farfetch released a video featuring model Laura Love, fashion editor Tamu McPherson, and actress Yuko Araki trying out the service. McPherson spills coffee all over her purse; Araki's clothes shrink in a laundromat dryer; Love's get stolen from her locker at the gym. Luckily, each of these women can afford Gucci apparel, and 90 minutes later, messengers carrying pristine shopping bags filled with new stylish goodies arrive at their doorsteps.
If you place an impulsive order that doesn't quite fit, Farfetch offers a unique return service. Call its customer service team and set up a two-hour collection window where a courier will come pick up your rejected goods.
Other luxury e-commerce destinations like Net-a-Porter do offer same-day delivery in select cities, but none so far offers deliveries as fast as 90 minutes in quite as many cities.
Related: That Feeling When Gucci Drops Its Own Fire, High-Fashion Memes
Soko Loved Gucci's Spring 2017 Hollywood Forever Cemetery:
Gucci's Fall 2017 Collection Will Be the Only Good Thing Left After the Apocalypse
Photo by Jason Lloyd-Evans
Photo by Jason Lloyd-Evans
Photo by Jason Lloyd-Evans
Photo by Jason Lloyd-Evans
Photo by Jason Lloyd-Evans
Photo by Jason Lloyd-Evans
Photo by Jason Lloyd-Evans
Photo by Jason Lloyd-Evans
Photo by Jason Lloyd-Evans
Photo by Jason Lloyd-Evans
Photo by Jason Lloyd-Evans
Photo by Jason Lloyd-Evans
Photo by Jason Lloyd-Evans
Photo by Jason Lloyd-Evans
Photo by Jason Lloyd-Evans
Photo by Jason Lloyd-Evans
Photo by Jason Lloyd-Evans
Photo by Jason Lloyd-Evans
Photo by Jason Lloyd-Evans
Photo by Jason Lloyd-Evans
Photo by Jason Lloyd-Evans
Photo by Jason Lloyd-Evans
Photo by Jason Lloyd-Evans
Photo by Jason Lloyd-Evans
Photo by Jason Lloyd-Evans
Photo by Jason Lloyd-Evans
Photo by Jason Lloyd-Evans
Photo by Jason Lloyd-Evans
Photo by Jason Lloyd-Evans
Photo by Jason Lloyd-Evans