Welcome to the Future of the Fashion Show
Where video is king, outdoor seating is (sometimes) socially distanced, and there is officially no calendar to follow.
---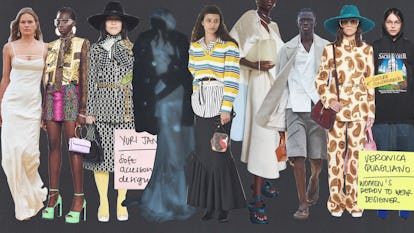 Collage by Tilden Bissell.
On July 16, a handful of editors and fashion folk received packages of organic, locally sourced fruits and veggies on their doorsteps—a cornucopia of squash, basil, nectarines, and green beans from farms near wherever they happened to be quarantined. Turns out, the spread wasn't part of a Fresh Direct order. It was the invitation to Gucci's resort 2021 show, called "Epilogue," which unfolded over the course of a 12-hour livestream by designer Alessandro Michele. This video stream, cast from inside the Palazzo Sacchetti in Rome, was half fashion show, half advertising campaign—"a show within the show," Michele said in a statement.
This was just one of the many interpretations of "fashion show in quarantine" that unfolded over the past couple of weeks. A hodgepodge of seasons including resort, men's, couture, and spring 2021 converged, ultimately creating the calendar-less world of fashion that so many new designers have been gunning for in recent years. (Even Shayne Oliver, in his recent announcement of Hood By Air's revival, noted that the brand would not follow any kind of antiquated fashion schedule.)
This first-ever digital fashion week in Milan certainly proved mixed in its results. But there was one fun aspect: designers did whatever they wanted.
There was the Gucci fruit thing, a mix of IRL (vegetable baskets sent in the mail) and URL (livestream.) Balenciaga, known for its theatrical showings (the last presentation took place in a dystopian, flooded environment as a commentary on climate change) kept it no-frills in light of the pandemic, pasting their looks onto line sheets that provided information about the clothing.
Louis Vuitton shot its resort 2021 look book in the brand's Paris offices. Copy machines, desks, and other workplace ephemera are visible behind models wearing striped leggings, boxy blazers, and voluminous cargo pants; an everyday-clothing take on the house's typically sumptuous designs. Accessories from this collection are adorned with heart, club, spade, and diamond charms from a deck of cards—Nicolas Ghesquière fittingly named the line "Game On."
Jil Sander designers Lucie and Luke Meier stuck to their brand's mission statement: well-made clothing with impeccable craftsmanship, created from the best fabrics. This simplicity translated to the look book for resort 2021, shared digitally with very little fanfare. Structured handbags, fluted leather skirts, and cape-like jackets harkened back to Phoebe Philo-era Céline.
A fall 2020 couture straggler, John Galliano presented his collection for Maison Margiela through video. In his short film (which was, for what it's worth, 50 minutes long) filmed by Nick Knight, Galliano's entire creative process is documented, from sketch to runway. His models, cloaked in deconstructed white suits and coats, are depicted hazily in both look book and video.
Versace, meanwhile, unveiled its "Flash collection" in a full-on campaign, replete with a partnership with the British rapper AJ Tracey. The West London native can be seen in the video created by Versace, which showcases models wearing the clothing in a mock-runway-show-slash-photoshoot. Tracey walks around set with his pal Donatella Versace, and changes into a snakeskin getup from the collection. The video culminates in a live performance by Tracey.
Ermenegildo Zegna and Jacquemus went the old-school route. Sort of.
Alessandro Sartori held a live spring 2021 men's wear show at its headquarters in Trivero, located about two hours from Milan. Some editors were present for the socially distanced show, standing on nearby rooftops to observe the looks—which consisted of billowy, Zoot suit-esque slacks, knit sweaters, and tie-dye blouses. For the general public, a live stream was available online.
Finally, there was Simon Porte Jacquemus—who arguably had the most true-to-the-game approach. He held his spring 2021 men's show in a wheat field at the Vexin Français Natural Regional Park, where a tight list of VIP attendees were seated six feet away from each other (although, some noted on Twitter, this hardly mattered—the very same guests were snapped noshing on figs before the show, mingling with one another, mask-less). Models including Mona Tougaard and Adut Akech walked down a wooden plank in the field, wearing earth toned slip dresses and asymmetric cropped button-downs.
It's difficult to say whether this kind of digitally focused presentation will be the new normal in fashion; most designers recoil at that idea, noting that they're not sure it's what fans of their brands want. And it is possible that, in the context of a stressful and traumatic pandemic, as well as protests worldwide, the calendar-less approach might have been somewhat botched this time around. Perhaps fashion week in 2020, like most things during this hell of a year, was merely a placeholder for what's to come when we're working at full capacity once more.
Related: During Remote Couture Week, Presentation Took Precedence Over Clothes