Inside Gucci Mane's One-Night-Only Piano Bar Show with Zaytoven
The Atlanta rapper Gucci Mane performed a cappella with the producer and foremost hip-hop pianist, Zaytoven during the the Red Bull Music Academy Festival.
---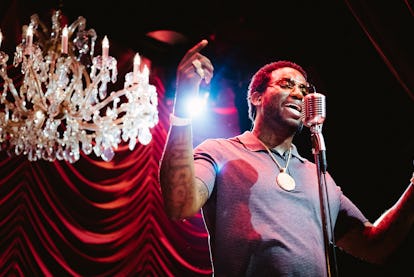 Photo by Maxwell Schiano
"This right here, is different," said the Atlanta rapper Gucci Mane with a nervous laugh as the producer and foremost hip-hop pianist Zaytoven played the first notes of a stripped-down version of Gucci's Christmas single "St. Brick," from The Return of East Atlanta Santa, on stage behind him.
It was a warm Tuesday night at New York's popular nightclub, The Box, and the occasion was Gucci's one-night-only "piano bar" performance for the 2017 Red Bull Music Academy Festival, which kicked off at the end of April.
Ironically, this particular event was part two of what RBMA called its "Trapped" double-header (as in trap music), and when Gucci took the stage he looked a little dubious of what exactly he'd gotten himself into.
Gucci Mane is nothing if not exuberantly resilient, however, after his successful return to public life as an artist after serving three years and change in prison. In other words, a piano performance was not about to throw him—and around the third song Gucci found his groove. "I feel like one of the Temptations up here," he said, flashing the signature, unfaltering smile that rivals his diamond chain, rings, and watch for brilliance.
Highlights from the night included renditions of Gucci's recent single "Waybach," as well as his 2009 hit "Bitch I Might Be"—both of which translated well to piano bar bangers. Zaytoven, Gucci's ride-or-die right hand, helped with the more challenging vocals for "So Icy," and also added that "First Day Out," which he helped Gucci produce immediately following an arrest back in 2009, was one of his favorite tracks.
"As he rappin', the hair on my arm starts standing up," said Zaytoven of their early session together in the studio.
So, they decided to close out the night with an a cappella version of "First Day Out," proving that a lifetime later—now with no pancakes and no syrup—Gucci's still one of the smoothest in the game.
Watch Gucci Mane's full performance with Zaytoven, below.