Gucci Embraces Its Parody on TikTok with the #GucciModelChallenge
The #GucciModelChallenge on TikTok involves distilling a contemporary Gucci look into a few key staples that are probably already in your closet.
---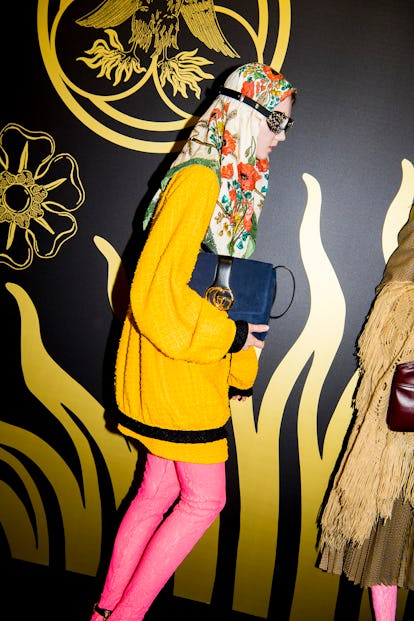 If you can believe it, apparently everything you need in order to look like a Gucci model straight off Alessandro Michele's runway is probably already in your closet.
Of course, if you do have actual Gucci items in your closet, then yes, obviously you would likely look more like a model for the brand. But if you don't, a few key items that look like they could have been designed by Gucci will suffice.
According to Morgan Presley, inventor of the viral #GucciModelChallenge on TikTok, all you need is a random colorful turtleneck, a shirt that does not match the turtleneck, a vest, a bright colored jacket, some vinyl pants, a miniskirt (optional), a headscarf (you can't forget this piece, it's a staple), sunglasses, clear heels and socks, and pink lipstick. If you layer all of those on top of one another, starting with the turtleneck at the base, then voila, you're suddenly a Gucci model—kind of.
If you think Gucci might take offense to this riff on their latest looks—think again. The brand, whose social media team must have a sense of humor about the distillation of high fashion into a simple formula that could be replicated by teens across the internet, actually sourced some of the more chic TikToks that utilized the challenge over the past few weeks, and re-posted them to their own TikTok page.
Not only did Gucci re-post the TikToks, they made note in their caption that some users selected by the brand will be part of an upcoming project with Gucci.
One of the label's most recent campaigns for Fall/Winter 2020 involved actual models just shooting photos of themselves at home, holding their plants or pets as props. It was only a matter of time before TikTok entered Gucci's fashion campaign fold.
Related: Gucci's New Campaign is Model Selfies and Some Zoom Karaoke