Gucci's New Campaign Stars Are Just Very Cute Animals
Fawns, blue birds, skunks, squirrels, frogs, and hedgehogs are among the house's pre-fall 2020 models.
---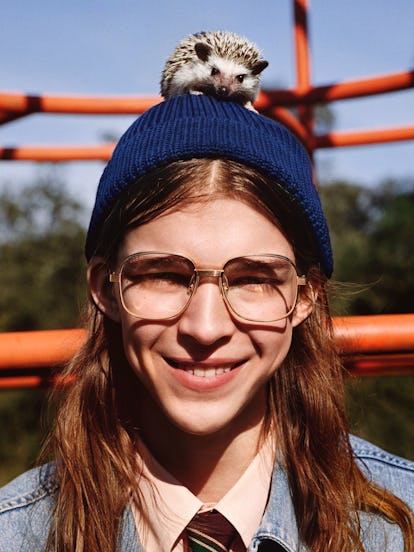 Since Alessandro Michele took over the helm of Gucci, the house's campaign stars have ranged from celebrities like Harry Styles and Lana Del Rey to extremely cute animals like chickens and piglets. The latter category takes center stage in its new pre-fall 2020 campaign, which was photographed in southern Spain. Titled #SoDeerToMe, its premise is simple: "In a child's world, any pet—a skunk, a frog or an owl—can be a best friend." Or any deer, fawn, blue bird, skunk, squirrel, duck, rabbit or hedgehog, from the look of things.
This We Bought a Zoo-style approach might seem like a clever solution to staging a photo shoot while social distancing. But the concept was actually conceived before the pandemic. Earlier this year, Gucci partnered with the Lions Share Fund, which supports the protection of endangered species and their habitats. Each time the house features an animal in an ad, it donates 0.5 percent of its media spending to the nonprofit. And thanks to Michele and the photographer Alasdair McLellan, the group is in for a real windfall.
Gucci is also shining a spotlight on its furry friends the spotlight on Instagram. Each photo comes with a fun fact about the species pictured, like how the word "squirrel" derives from σκίουρος (skíouros), a Greek word for "shadow-tailed." You can also learn about the diet of teacup-sized hedgehogs, which includes slightly less cute creatures like centipedes and snails.
Related: Why a Model Protested Gucci's Spring/Summer 2020 Show on the Runway