Did Gucci Just Free Fashion From the Hell of Its Own Making?
Gucci says no to fashion show bloat.
---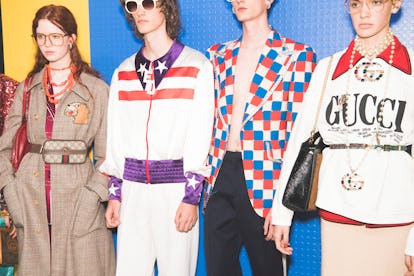 In the fashion industry, being constantly busy is both the biggest status symbol and the biggest curse. There's an endless parade of parties, and appointments, and dinners, and trips, and go-sees, and, of course, fashion shows, and at each and every one of those gatherings you're likely to find someone perched in some VIP section complaining about how it was all just too much (even if that person fought to get on the list for entry).
Fashion show bloat has become increasingly pronounced in the past decade or so. Where once there were just spring and fall shows for ready-to-wear and couture, now there's the globe-trotting parade of resort and pre-fall collections. Throw separate menswear shows into the mix, and some houses hosted over eight shows a year.
Gucci had settled into a rhythm of five per year, but in Instagram posts uploaded as quarantine diaries, creative director Alessandro Michele revealed that the brand will cut down to just two.
"We will meet just twice a year, to share the chapters of a new story. Irregular, joyful, and absolutely free chapters, which will be written blending rules and genres, feeding on new spaces, linguistic codes, and communication platforms," wrote Michele in one update.
"I would like to leave behind the paraphernalia of leitmotifs that colonized our prior world: cruise, pre-fall, spring-summer, fall-winter," he continued. "I think these are stale and underfed words."
Michele's prose, like his fashion, favors the ornate, but essentially, the takeaway is that Gucci will pare down to two presentations a year (whether those will even take the form of traditional runway shows remains to be seen).
Of course, the industry as a whole has been openly grumbling about its own schedule for years now, with attempts at innovation coming in fits and starts but never quite taking hold industry-wide (see: the "see now, buy now" model, or genderless shows). Increasingly, creatives are now openly worrying about just how environmentally sustainable all those shows are (not to mention the air travel it takes to get guests there).
With the fashion calendar now at a complete standstill due to the pandemic, there has never been a better chance to actually make big changes.
In fact, it might be a necessity. In the announcement, Gucci also stated it won't show this September at all. So, even brands that aren't in favor of scaling back in the long term may very well have to this year, anyway.