Gucci Vs. Versace
In case you missed them, here are the top style news stories of the week.
---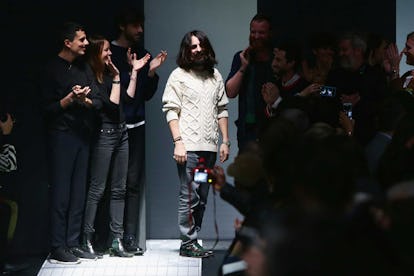 Campbell, Naomi Guest starred on Empire, the TV show that featured a blowjob bib last week.
Camuto, Vince The legendary footwear designer passed away at age 78.
Chanel Plans to hold fashion shows this year in New York, Rome, Seoul, and Paris, of course. Made a deal with Delta.
Cooper, Bradley Revealed that he consumed 8,000 calories a day for American Sniper. His co-star Sienna Miller did not follow suit.
de la Renta, Oscar The recently deceased fashion designer will be the subject of a new exhibition at SCAD Museum of Art. Dress appropriately.
Fendi The luxury label plans to launch e-commerce. Because the Internet is so 2015.
Grenier, Adrian The actor is the new face—and rear—of Buffalo Jeans.
Kardashian, Kim Wore a fur bikini. Is a bit confused about what the fashion term "Resort" means.
Michele, Alessandro The designer was named the new creative director of Gucci. Tom Ford breathes a sigh of relief.
Moschino Opened a store in L.A., which is decked out in true Jeremy Scott style.
Obama, Michelle Wore a Michael Kors suit to the State of the Union address. Watched it sell out instantly.
Owens, Rick Included full frontal action in his runway show in Paris. Instagram did not approve.
Smalls, Joan Is now starring in Prabal Gurung's serene new ad campaign.
Twiggy Is the UK ambassador for L'oreal, while Karlie Kloss revealed her new campaign for the brand in the US.
Vaccarello, Anthony The fashion designer was named the new creative director of Versus Versace. Christopher Kane can relax, as well.
Wang, Alexander Featured a party bus in his spring ad campaign. Didn't get Prabal's peaceful memo.