Five Minutes with Gucci Westman
The legendary makeup artist talks celebrities, skincare, and SK-II.
---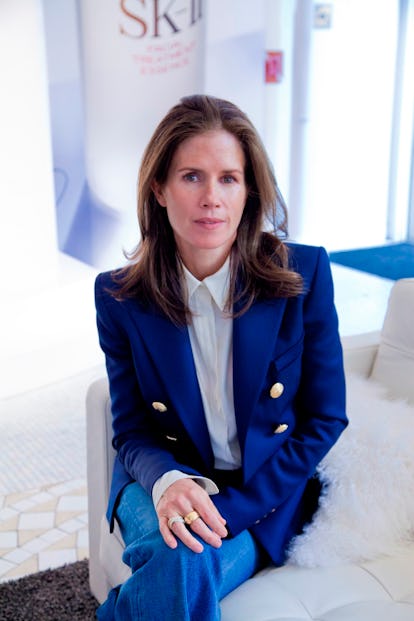 Few makeup artists talk as much about skincare backstage as Gucci Westman, so her new partnership with SK-II is something of an obvious fit. Showing off a few of her favorite products at the brand's SoHo pop up, we had a few questions for the woman behind so many editorials, runway moments, and celebrity (think Cameron Diaz, Gwyneth Paltrow, and Julianne Moore) looks.
What is your morning skincare routine? I do the SK-II Facial Treatment Mask in the shower, seal everything with cold water, and use the Essence and the LXP cream and then I'll just spray myself with the Mid-Day Essence throughout the day to keep myself looking hydrated.
Why is skincare so important to you? I just love when women look like they have beautiful skin without looking too masked. That's always been my thing.
Why are you excited to be working with SK-II? Well, I've been a great fan for years; I mean I can't even remember when I started using SK-II. I've had the Essence and the masks in my kit for… I don't know, 100 years! A lot of the girls I work with, like Jennifer Aniston, they're obsessed with the masks and the eye masks. I always incorporated the mask philosophy before doing makeup every time I'd do a shoot—it's like a spa treatment before we start and it makes them feel more confident. I'm just such a believer of the combination of skincare and makeup. My favorite products are the Mid-Day Essence [retrieves it from her little blue Chanel bag]—I know it's like a 3 p.m. boost, but I say it's like a noon, a 3:00, and a 4:00 because I'm always feeling dehydrated and I've never had a product this easy to use and efficient. Your makeup just looks so much better when it looks like it's part of your skin instead of just sitting on top of your skin.
What is your biggest beauty blunder? I gave myself contact dermatitis by using a really crazy skin product like a year ago. It was so active that I was like, "Oh I'm into this tingling!" But then it was way too much for me!
What's your earliest beauty memory? Well, I wasn't allowed to wear makeup until I was like 15 so it was probably doing my friends' makeup on the bus to school. I would sit and have crazy colors and say, "Come here, let's do blue today! Let's do pink lips!" [Laughs] So, I've always loved to paint my whole life and painting and interacting with women—what could be better? And making them feel beautiful has been such a pleasure, and such a nice part of this business.