Gugu Mbatha-Raw's Latest Role Challenged Her Perspective on Pageants
The actress opens up about getting into character for the film 'Misbehaviour,' which involved traveling to Grenada with former Miss World Jennifer Hosten.
---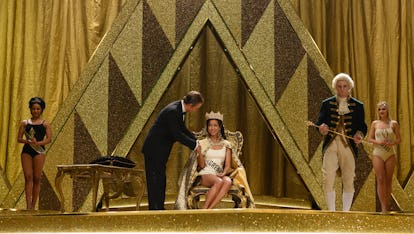 When Gugu Mbatha-Raw was growing up in the rural English town of Oxfordshire, participating in a beauty pageant was the furthest thing from her mind. The 37-year-old actress, whose roles in The Morning Show, Black Mirror, and the upcoming Disney+ movie Loki have cemented her star status, said that as a kid, she would never be seen as a beauty queen. And yet, Mbatha-Raw's latest project finds her donning a sash and a crown.
In Misbehaviour, the actress plays Miss Grenada 1970, Jennifer Hosten—who was the first woman from her country to win such a title. The film, which was released on Friday on VOD, concerns the Miss World competition from that same year, which took place in London. It was the height of the women's liberation movement, and members of the group stormed the stage in protest, disrupting the show and the telecast. It might be the last role she could imagine herself playing, but Mbatha-Raw explains that the significance of playing Hosten extends far beyond being judged based upon her looks. The story touches upon topics of race, privilege, and, of course, what women's rights means to different people.
Speaking on the phone recently from Atlanta, where she is currently filming Loki with Tom Hiddleston, Owen Wilson, and Richard E. Grant, the actress opens up about the process of getting into character for the movie—which involved traveling to Grenada with Hosten herself.
You've used the word "intersectional" often to describe the movie and the Miss World Competition of 1970.
What's so interesting about the film is that it has a collision of cultures, in terms of the event itself being in 1970—it was the year that the women's liberation movement, which had just formed essentially—stormed the ceremony. But it was also the year that the first woman of color won. So there is this intersection of these two ideals of feminism: the classic 1970s activism—which was mainly from the white perspective—of the women's liberation movement, which most people perceive as the feminist women's movement. But also, looking at Jennifer Hosten's trajectory, even though she's a beauty queen, to become the first woman of color to win Miss World was a huge step forward for representation. For me, it's intersectional because it confronts both points of view.
There's a scene in the film where my character and [costar] Keira Knightley's character have this moment in the powder room. You've had all of this activism and pageantry and theater, if you will, of this type of activism up until this point. And then finally, these two women are face to face. As Jennifer, I say to Keira, "If I could, I'd wish to have your opportunities in life." Meaning, to be able to rebel the way you're rebelling, to throw flour bombs—for me, that's a luxury because I'm fighting my fight, and my fight is to be seen. To legitimately be a winner of this competition, to be seen, to be represented. You can't underestimate the power in that.
The women are coming from two very different perspectives; they're both standing in their own truth as they see it. The film doesn't pit them against each other as activists: good, beauty queens: bad. It's more complex than that. And I think I was probably quite judgmental about women's motivations for going into these contests when I first started researching for this film. Talking to Jennifer Hosten opened my mind. Everybody's coming into it through a different lens. As I say, it depends on the opportunities available to you, and for Jennifer at the time, she was seeing herself as an ambassador for her country, really representing Grenada for the first time ever, representing women of color. That was a huge honor and a responsibility. For her to win in that context could really be inspiring to the next generation of women, optically, to see that they could achieve something as well.
I read an article in which the reporter asked you whether you had ever been ever in a pageant, and replied, "God, no." You kind of recoiled at the idea. How did you change your outlook on that?
There are two ways of reading that. I was laughing at the absurdity of it because I never was perceived as beautiful, as a youngster. So when people are like, "Growing up, did you go into pageants?" I have to laugh. And it's twofold, because on the one hand, there's the, "God, no," because I was kind of nerdy and loved my theater—and also, nobody would have put me into a beauty pageant [laughs]. I just wasn't seen that way, and it wasn't in my world. I wasn't aware of [pageants] growing up. That was partly growing up in rural Oxfordshire. The "God, no" was also laughing at the fact of how far away that was from my small town upbringing in the UK.
I try to be open-minded and, as I say, it's so easy to be judgmental. I had to look at it from a different perspective, and think about why somebody might feel like a beauty pageant might be a stepping stone. It might give you an opportunity to travel. It might give you an opportunity to win a cash prize. It could pay for your education. It might give you an opportunity to see the world, meet other people from other countries, have a cultural experience. Obviously, I don't agree with women being objectified for their looks solely, but I think I was trying to look at it from a more multifaceted perspective—what a smart woman might use that kind of opportunity for.
How were you seen when you were a kid?
I wasn't popular, but I wasn't unpopular either. I was sort of the in-betweener, I guess, like all actors. An outsider, but somebody that could talk to everybody. I was able to shape-shift and be friends with everybody. It wasn't like I was in or out of any particular group. I worked really hard. I was pretty academic at school, but I loved theater, and I loved my dance. And so I spent all of my time after school, either in drama club or ballet club or tap or jazz band or school choir. I was always channeling all my energy into some kind of creative performance. I did have a sense of theater in my life, but it wasn't in the competitive beauty sense, it was much more because my theater friends were fun and they were the ones that I liked hanging out with. It was more about finding a sense of community, as opposed to one person being pitted against another.
So often, that's the story of having a mixed racial background, as well: you fit in everywhere and you fit in nowhere at all.
Absolutely. And as a mixed-race person, I'm kind of comfortable with that. You can feel at home everywhere and nowhere, and there is a duality to that which can be really useful when the world is going completely upside down. I think that to be able to find a strong sense of self within that—the resilience it takes to be somebody who can be comfortable in different environments and different cultures, is really useful.
Tell me about talking to Jennifer Hosten when you were preparing for this role. Did you meet with her in person or did you talk on the phone?
Initially, I sent her an email, and then I was able to talk with her on the phone. She lives in Canada, and I was in London at the time. After we spoke on the phone, I sent her another email suggesting that I'd love to meet with her. I had this crazy idea that could we do it in Grenada, because I'd never been there. I knew she visited family there, and I just thought it would be a really amazing experience. I felt like playing Miss Grenada, she's such a cultural icon to the island, and I couldn't feel authentic about playing her if I hadn't been there. Luckily, she was game—she accepted and I took a trip. I brought my mom, she brought her daughter, and we spent a few days in Grenada. She basically was my tour guide.
And Grenada is gorgeous—everyone should go there on holiday. It's so stunning. Getting to explore the island was really special: there are huge beaches, and harbors and there are beautiful rainforests and waterfalls. The people are warm, and it feels quite like a gentle sort of island. It was amazing to be there with her, too. It really was like being with the Queen of Grenada. Everybody recognizes her still. Everyone is excited to see her and wants to stop and talk with her in the street. Just to understand what it meant to Grenadians still to this day, and also to really have some time with her, to observe her and listen to her accent and get stories from her, and just feel her energy—it was useful for portraying her. Also, quite frankly, because I knew the whole film was going to be set in London, just to have a memory of Grenada was going to be really helpful to get me through those early wake-ups in London winter.
What was something surprising or unexpected that she told you about from that time in her life?
She told me this story about how she went on a sunbed to make herself darker in preparation for the competition the day before. She nearly burnt her eyes on this UV sunbed and her eyes were streaming right ahead of the competition. Little details that you think, gosh, at the 11th hour, those details could have completely ruined her chances. We couldn't include this in the film, but she actually traveled to London with her sister, who did her hair for her. Her sister was really the person who helped her stay grounded and gave her perspective and talked to her about it being a package deal—that it wasn't just going to be about looks, but that she would need to bring personality and her intelligence and everything else to the competition.
She shared with me details about where she grew up, and how she got in shape for the role: she would run along Grand Anse Beach in Grenada, which is this really long stretch of gorgeous, golden sands. That was sort of her gym, and I did that one morning. I mean, I'm not a runner, but I ran along the beach just to soak in the experience. That was really special.
Related: Inside Queen USA, the Transgender Beauty Pageant at the First TransNation Festival