Gunner Stahl Gets Up Close and Personal With All the Hip-Hop Stars
The 24-year-old has shot The Weeknd, Wiz Khalifa, Gucci Mane, Young Thug, Lil Yachty, Travis Scott, and most recently, for W magazine, Rae Sremmurd. But his personal icons? Michael Cera and Mac Demarco.
---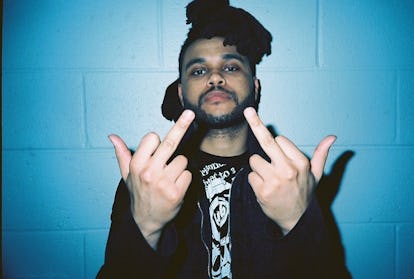 Growing up in Atlanta, Georgia, photographer Gunner Stahl, 24, was surrounded by emerging hip hop stars. It's for this reason that he's been able to get up-close and personal with names like Lil Yachty, Lil Uzi Vert, and more established rappers like The Weeknd, Wiz Khalifa, Gucci Mane, Young Thug, and Travis Scott in such a short span of time. Most recently, Stahl shot brothers Swae Lee and Slim Jxmmi brown of Rae Sremmurd for W magazine. And as the results demonstrate, it wasn't so much a photo shoot as a fun chill sesh. This is typical for Stahl. "We were just hanging out and taking pictures, as usual," he said.
Did you grow up taking photos? I didn't start taking photos until I was 18. I had a digital camera first, and then it broke. I was going to the cover the Yeezy show and my friend gave me this old camera. I didn't really know how to use it, but I went to CVS and bought some film and took it to the show. That's when I started using film.
Do you prefer film to digital? Yeah, I do. I like the risk that you take when you shoot with film. You honestly don't know what the photos are going to look like at all.
Do you think your subjects are more comfortable around film? Yeah. I also feel like they're more intrigued. I remember when I was shooting Young Thug, he was like, "What are you using?" and I was like, "It's a film camera." And he said, "Oh, so we have to wait to see the pictures? That's crazy."
Yeah, they're not used to that. Do you ever take photos on your phone? I suck at taking pictures with my phone.
What are some projects you've done recently? I did one of Gucci Mane's first stories since he came out of jail. It was fun. He's a cool guy to be around. He was smiling super hard. He just wouldn't stop smiling all day. I also went to Coachella this year. I never thought I was going to get to go — it's just a whole other world to me. You have to pay to get to L.A., you got to pay to live, and then you have to pay to get to the desert. And then you got to pay for the tickets! It's so drawn out. But I went and only took pictures. It was the craziest thing to me.
Would you go to Coachella again? I honestly don't know. It's hot in the desert, man. I think I'm just over the whole festival thing, really. Everyone thinks it's dancing and turnt, but it's really just a bunch of, "Where are you?" texts.
Have you ever been nervous to meet someone? I was super nervous to meet [Young] Thug at first. He's been one of my favorite rappers for the past two years.
What's your process? Do you plan anything out? Most of my shoots are spur of the moment, like I'll be backstage at a show or in the studio. We're just hanging out.
So, artists will just hit you with a text being like, "I'm in the studio come shoot." Why do you think they feel so strongly about having their lives and work documented? Especially since it's already so documented with social media. I feel like in 2016, rappers are more invested in their image. It's like 50 percent music and 50 percent image. They want to document it so that they can have a certain look. You know how people go to Terry Richardson to get that white background look? I guess people come to me to get that raw, chill kinda look.
Is there anyone you're inspired by? I'm inspired by Michael Cera.
Michael Cera? Please tell me more. I like his style. I like the way he carries himself. And "Nick and Nora's Infinite Playlist," is one of my favorite movies. As for music, I like Mac Demarco.
The A$AP Mob and Playboi Carti